Species

Nicknames

American Godzilla, Tuna-Head, TriZilla, Godzilla USA, Godzilla 1998,

G.I.N.O.

Height

Length

Weight

Forms

Allies

Enemies

Relationships

Controlled by

Created by

Roland Emmerich[1]
Dean Devlin[1]
Patrick Tatopoulos[1]

Portrayed by

First Appearance

Latest Appearance

Designs

Roar
Zilla (ジラ?, Jira) is Toho Studio's official name for the titular creature of the 1998 American film,[6][7][8][9][10][11][12] who was previously known as Godzilla.[7] Zilla is a mutated iguana kaiju co-created by TriStar Pictures and Toho Studios[10] that first appeared in the 1998 American film, GODZILLA, and first faced Godzilla in the 2004 Godzilla film, Godzilla: Final Wars.
Name
Zilla was originally called Godzilla,[7] which came from the fact that it was a remake of the real Godzilla.
Shogo Tomiyama, the man in charge of the Godzilla franchise, and Ryuhei Kitamura, the director of Godzilla: Final Wars, then renamed the 1998 creature, previously known as "Godzilla", to just "Zilla" in 2005, saying that TriStar "took the 'God' out of 'Godzilla'".[13]
Appearance
Physically, Zilla resembles a giant-sized, raptor-like, flesh-eating dinosaur of some sort, with some inspiration from iguanas. He has a rough, square-shaped underbite, a long neck, large, fin-shaped scutes (which differ greatly from Godzilla's maple leaf-shaped scutes), and long, powerful legs and arms. He also possesses a seemingly vestigial toe, on the back of, and three dinosaur-like toes on the front of each foot.
Personality
Zilla was originally a very animalistic, illusive and evasive, yet clever creature in his first film appearance, and he kept most, or at the very least, some, of these traits later on. He mostly ate fish, making him a piscivore, which he would also give his offspring. When being attacked, he would try to confuse his offenders and then attack them back, and he even faked his own death when the two Ohio Class Nuclear-Powered Submarines shot two missiles at him. After his offspring were killed when the Madison Square Garden was bombed by the military, he showed a great amount of anger towards the main characters, who he may or may not have known were somewhat behind their deaths.
In his later appearances in Godzilla: The Series, Godzilla: Final Wars, and Godzilla: Rulers of Earth, Zilla, or Cyber-Zilla in Godzilla: The Series' case, was shown to not run away nearly as much and tried to fight. In Godzilla: Final Wars, he faced Godzilla head-on, a move that, while not smart, was brave. Although this could be because he was under the Xiliens' control and was forced to fight Godzilla. In Godzilla: Rulers of Earth, he retained many of the same characteristics as its 1998 appearance, although he lost his cowardly nature. He faced Godzilla head on, evaded his attacks, and landed several attacks of his own. However, he retreated to the sea when Godzilla was close to killing him and he just barely escaped Godzilla's grip.
Origins
Zilla is a giant mutated marine iguana originating from a nuclear test in French Polynesia.[14] As the test was done in 1968, the creature (or perhaps species) grew over a period of approximately thirty years. His irradiated genes caused him to achieve a height of about sixty meters.
History
Zilla swam from the islands across the Pacific, attacking a Japanese freighter, and then stomped across Panama. From there it traveled up the American Eastern Seaboard, where it sank several American fishing boats. It then stomped through New York, necessitating the evacuation of the entire city. The military battled him extensively, and supposedly killed it in the East River. However, it had laid hundreds of eggs in and under Madison Square Garden (an arena in Midtown Manhattan), which hatched and filled the Garden with hundreds of baby Zillas. The military bombed the Garden, slaying the infant Zilla's. However, Zilla then revealed itself to have survived, and chased the heroes through New York across the Brooklyn Bridge, where it became entangled in the suspension cables. It was then killed by F-18's (although later on, in the sequel TV series, he was resurrected as a cyborg by the Tachyons), this cyborg variant appeared during the monster wars story arc which was very similar to the general plot of Destroy All Monsters and Godzilla: Final Wars.
One unhatched offspring survived the destruction of Madison Square Garden. When it hatched, it imprinted upon Dr. Niko Tatopoulos shortly after Niko discovered the egg. From there, Zilla Junior accompanied Tatopoulos and his team, H.E.A.T., on their missions against various monsters mutated by nuclear experiments in Godzilla: The Series.
Because the original Zilla reproduced asexually, it can only be properly classified as genderless. It is, nonetheless, acceptable to refer to Zilla colloquially as either male or female.
Zilla appears in the first episode of the series, an animated Zilla appears in a recap of the film's ending.[5] Zilla later returns in the Monster Wars trilogy as Cyber-Zilla.[4]
In Godzilla: Final Wars, Zilla is one of the monsters controlled by the Xiliens, and under their control he attacks Sydney, Australia. The towering reptile topples down buildings, chomps on vehicles, incinerates a crowd with his fire breath, and even eats a couple of civilians. Then suddenly, the Xiliens teleport the reptile and the other monsters around the world. They tell the humans that they took the monsters away to save Earth. However, the humans find that the Xiliens were controlling the monsters and the Xiliens release all the monsters again to finish destroying the cities they were attacking. When Godzilla is freed from the south pole and defeats the Xilien warrior Gigan, through the alien leader's command Zilla is re-released in Sydney to do battle with Godzilla. He is defeated rather quickly by Godzilla himself, who sends him flying into the Sydney Opera House and finishes him off with his atomic breath. The battle was the shortest in the Godzilla series.
Critics say that this short battle was meant to show Toho's displeasure towards Sony and TriStar with their handling of the Godzilla franchise. Other say the significant difference in size, speed, and abilities between the two showed it truly played out the way it should have. Zilla appeared to be the same as the 1998 creature, except for minor appearance differences and the size. However, as Godzilla: Final Wars and the 1998 film do not take place in the same timeline, and GMK has its own version of Godzilla, and there is no continuity between GMK and Godzilla: Final Wars, it is not possible for these to be the same creature. However, this does not mean that Zilla is a different character from the 1998 version with a different Trademark.[7][8][9]
Fan Reaction
The history of the 1998 film and its monster has been a rather mixed and negative one. The initial reaction to the 1998 release was mostly a negative one spanning from both movie critics and Godzilla fan base alike. Critically it was blasted for uninspired acting, random plots that don't fit, unnecessary use of rain, inconsistent size of the monster, shoddy special effects (even for its time period), the constant themes and actual scenes it has ripped off from hit film Jurassic Park. TriStar's "Godzilla" heavily borrowed concepts such as the asexual development of eggs. Multiple scenes had the main characters running for their lives from the baby Zillas which look much like the velociraptors in Jurassic Park, although the directors greatly state this was not intended.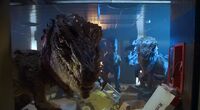 There were scenes that were frame by frame the same as Jurassic Park, like the velociraptor shadow scene, jump attack sequence or the door opening sequence. At the end of the film when Zilla was killed by the F-18 Hornets, audiences were confused as to whether or not they should have felt sorry for the creature or cheer much like New York citizens and military celebrated to Zilla's demise. In the original, it had a sad ending for both the monster and martyr who gave himself up to destroy Godzilla and the Oxygen Destroyer. The Godzilla fanbase criticized the film for lacking Godzilla's theme, personality and key characteristics.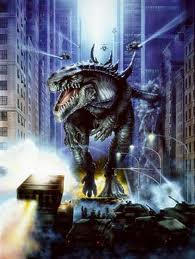 For instance, "Godzilla" was redesigned for this film, it was more like the Rhedosaurus from The Beast From 20,000 Fathoms as opposed to the real Godzilla's traditional design, though the designers greatly insist that this was not an intention. The origin of the monster is also changed, from being a mutant fictional dinosaur to an iguana mutated by nuclear fallout from a French nuclear test. This was an attempt by the directors to make the creature more realistic and less corny.

The most heavy criticism, though, came from the creature's lack of similarities and personality to the original monster. Zilla lacked Godzilla's trademark atomic breath, as well as his strength and durability, testified by his easy destruction at the end by the F-18's at the Brooklyn Bridge. Dean Devlin tacked in a last minute power breath even though he had no plans on adding any powers what so ever. It also lacked the on screen omnipotent presence that the original Godzilla possessed. There was a feeling of dread with the original while Tri-Star's version was just a large animal wandering the streets/subways of Manhattan. Many compared it as removing Spider-Man's webbing or Superman's invulnerability and flight. For these reasons, fans refused to equal the two monsters and differentiated by naming the creature "Notzilla", "TriStarZilla", "Deanzilla" or "Patzilla" (because of its creators, Dean Devlin and Patrick Tatopoulos), and G.I.N.O. (an acronym for "Godzilla In Name Only"). Ryuhei Kitamura, the director of Godzilla: Final Wars, as well as Shogo Tomiyama, the man in charge of the Godzilla franchise at that time, finally responded by officially renaming the creature "Zilla", accusing TriStar of having removed the "God" from "Godzilla".[10][13]

Financially, the movie did well in its initial release ($55 million) but word of mouth from both fans and critics caused the films profits to drop 40% after the first week. Domestically it made $136 million and drew in another $242 million overseas. The movie's budget was $130 million in both production and advertising costs. It was not a complete bust but it was not the blockbuster the movie studio was looking for. Sony and Toho had a contract that there was supposed to be a trilogy of Godzilla movies within 5 years of the first film. During that time Sony released Godzilla 2000 in US theaters, in part because a Japanese Godzilla film would be seen as a break from the Dean Devlin, Roland Emmerich version. Because of the reaction, a lack of retailer interest and finances brought in by the first film, Sony decided not to make another Godzilla film and their contract with the Godzilla franchise expired May of 2003.

Despite the negative reaction to the film, the follow-up TV series garnered surprisingly positive reactions from fans and it did well in the TV ratings. The series followed the adventures of Dr. Nick Tatopoulos, a major character from the film, and Zilla's surviving baby. The series returned Godzilla's trademark characteristics to Zilla Junior, including his strength and nigh-indestructibility, his atomic breath and general masculinity. Zilla Jr. follows Dr. Tatopoulos and the members of H.E.A.T around, having imprinted upon Nick as his own parent, and fights various other monsters that have been formed by nuclear radiation, in the style of the late Showa era. The fan response to the series was overall very positive, and Zilla Junior gained much respect from those who hated the film.

There's a popular rumor saying that Toho honored the animated Zilla by calling calling him "Godzilla Junior" seeing that it was worthy of the Godzilla name. This rumor has yet to be confirmed, however, as there has been no official statement from Toho. It turned out that this rumor was just a misconception created by fans of the animated series, and Toho added no comment to the matter.

Ever since the success of the cartoon series and its defeat in Final Wars, Zilla has been received some praise for its fairly unique design, and has since grown in popularity.
Misconceptions
Abilities
Filmography
Comics
Zilla appears in the first issue of Godzilla: Rulers of Earth as a rogue kaiju. He is first sighted by a submarine which mistakes him for Godzilla. He later makes landfall in Honolulu, Hawaii and is given the identification as "Zilla" due to radio interference. He then goes on a rampage while fighting the CKR forces stationed there before being attacked by Godzilla who has also arrived and the two monsters prepare to fight. In this series, Zilla bears more of a resemblance to his 1998 design as opposed to his 2004 Final Wars design. Although any real powers have yet to be seen, he appears to have an extremely thick hide as implied to him sustaining multiple hits from artillery fire. He also is very quick and actually does not run away strictly like his 1998 film incarnation, but instead has an attitude more like the Zilla Junior incarnation, not running away until Godzilla almost kills him.
In Other Languages
Russian: Зилла
Bengali: জেলা
Simple Chinese: 齐拉
Traditional Chinese: 齊拉
Gujarati: જીલ્લા
Hebrew: צילה
Hindi: जिला
Kannada: ಜಿಲ್ಲಾ
Korean: 질라
Marathi: जिल्हा
Telugu: జిల్లా
Urdu: ضلع
Yiddish: זיללאַ
Roar
Zilla's roar seems to be a mix between Godzilla from the 1960's-1970's and an elephant. An example would be when he got hit by Torpedos, he groaned like an elephant.
Trivia
Zilla was considered for Godzilla: Unleashed, but didn't make the cut due to his lack of popularity during production on the previous games.[15][16]
Despite appearances, Zilla is a mutated marine iguana, and not a dinosaur like Godzilla.
Zilla was designed based on only the instructions that he should be agile and fast.
Zilla's design's colors suits him to better camouflage within an urban environment, so as to be harder to spot.
The attack on New York by Zilla was referenced in Godzilla, Mothra and King Ghidorah; although the American experts believe that it was Godzilla, the Japanese do not.
In the the episodes "Tales Of Suspense Part 1 and 2" of the Marvel Animated Series Iron Man: Armored Adventures, the Makluan Fin Fang Foom has Zilla's roar.
The people at Toho had clear communication with the people at Hollywood. When asked about Hollywood's 1998 film interpretation of Godzilla, Shogo Tomiyama stated: "There was always very good communication between Tokyo and Hollywood. We knew exactly how they were going to do it, and we knew what Godzilla was going to look like."[10]
References
This is a list of references for Zilla. These citations are used to identify the reliable sources on which this article is based. These references appear inside articles in the form of superscript numbers, which look like this: [1]
↑ 1.0 1.1 1.2 1.3 1.4

Weinberger, Kimberly, and Dawn Margolis, comps. The Official GODZILLA Movie Fact Book. New York: Scholastic Inc., 1998.

↑ 4.0 4.1 4.2 4.3 4.4 "Monster Wars - Part 1/Part 3". (February 13, 1999/February 27, 1999). Godzilla: The Series. Season 1. TriStar.
↑ 5.0 5.1 "New Family - Part 1/Part 2". (September 12, 1998/September 19, 1998). Godzilla: The Series. Season 1. TriStar.
↑ 7.0 7.1 7.2 7.3 Official documentation showing GODZILLA 1998 Registered trademark has been cancelled. Scroll down to see "Status / Status date"
↑ 8.0 8.1 8.2 Official documentation showing "GODZILLA 1998" logo to be cancelled and abandoned. Scroll down to see "Status / Status date"
↑ 9.0 9.1 9.2 "BABY GODZILLA" logo is abandoned. Scroll down to see "Status / Status date"
↑ 10.0 10.1 10.2 10.3 INTERVIEW OF SHOGO TOMIYAMA AND RYUHEI KITAMURA, showing them CONFIRM the Zilla Name Change
↑ Matt Frank's comment on his "Godzilla: Rulers of Earth" deviation on DeviantART
↑ 13.0 13.1 The article that shows that Ryuhei did rename Zilla (Look under the "Monster Alert!" section)
↑ Dean Devlin, Roland Emmerich (writers) & Roland Emmerich (director). GODZILLA. (May 19, 1998). Film. TriStar.
Poll