Species

Nicknames

Height

?? meters (Human size)
?? meters (Giant size)

Length

?? meters (Human size)
?? meters (Giant size)

Weight

?? kg (Human size)
?? tons (Giant size)

Forms

Allies

Enemies

Relationships

Controlled by

First Appearance

Roar
Yasugon (ヤスゴン?) is a kaiju created by Toho that first appeared in episode 4 of Go! Godman, Godman vs. Yasugon and Tsunokeler.
Appearance
In Godman, Yasugon had a head that oddly resembles a beaver and dark grey skin with yellow hued spines.
In Greenman, Yasugon was largely unchanged, but had more spikes and his head was shaped in a slightly different way.

History
Yasugon was the fourth monster to fight
Godman
.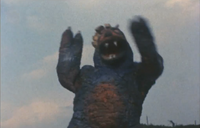 Yasugon also appeared in episode 37 of
Go! Greenman
, he was the thirty-eighth monster to battle
Greenman
.
Ad blocker interference detected!
Wikia is a free-to-use site that makes money from advertising. We have a modified experience for viewers using ad blockers

Wikia is not accessible if you've made further modifications. Remove the custom ad blocker rule(s) and the page will load as expected.