Home
Talk

28
1,124articles on
Wikizilla
Search 1,124 articles:
The encyclopedia of Godzilla, Gamera, and other Toho monsters that anyone can contribute to!

---

Polls - Forums - Recent Changes - Categories - New Pages - Wanted Pages - Staff - Users - Help

---

Welcome to 'Wikizilla, the Godzilla Wiki! We are currently working on 1,124 articles and we welcome your contributions (in accordance with the GFDL license, of course)! You can check out the new pages, recent changes, and statistics. Don't know what Godzilla is? Then read our summary here!

If you've never been here before, you can find out more by checking out the About page. Need help? Please visit our Help section. Questions? If you've got questions you can post them at our community center, the Main Page discussion, or you can simply visit our Forum and ask there! Check out the polls so we can see what you think about things. If you need edit-specific help, check out our editing help page. Wanna try some things out? Check out the Sandbox, where you can test out any of the wiki code. Have fun, and we hope to see you around!

| | |
| --- | --- |
| Wikizilla isn't a new Wiki, having been here since 2005, but it's low on the regular editors. So, we need you, yes you, to help us. Edit the articles and add your knowledge to the site. Don't forget to invite your friends to help too! | |
---
---
Like Wikizilla on FaceBook!
Join the chat!
Create blog post
News and Opinion
Here i am again, this time talking about toys. (Again) These toys give us more detailed looks of Godzilla and Muto. Take a look:


What do you think? T…


Read more >

Ha, I have done it. I have created the first Godzilla: Unleashed Single Segment Speedrun (So just one sitting, one video etc). I guess this makes me …

Read more >

So this game is special in a very interesting way, as it makes its own game system that no one else I have seen has used. I think it's really cool an…

Read more >
See more >
Google+
| | | |
| --- | --- | --- |
| " | Gentlemen, you are being sent in via halo-jump. Now, I realize that not all of you have had hands-on experience... And frankly, none of us have ever faced such a situation quite like this one before. But I would not be asking any one of you to take this leap if I did not have complete faith in your ability to succeed. Your courage will never be more needed than it is today. | " |
| | — Unknown Military Figure (Godzilla Trailer) | |
The Quote Archive
Image Of The Month: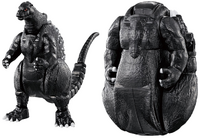 This wiki is a member of the new Tokupedia Hub.
sv: