If you have any plans for the weekend I suggest you cancel them because SHOUT! Factory will be hosting a Kaiju Movie Marathon: Gamera's Revenge on October 17th.
In celebration of Gamera's 50th anniversary, they will feature eleven classic Gamera movies from the original Gamera (1965) to Gamera 3: The Revenge of Iris (1999). The event will stream live from Shout Factor TV 8am ET to midnight ET. It will be hosted by August Ragone.
You can also watch via mobile, tablet, and connected TV devices via the Pluto TV app or via Amazon's Fire TV and Fire TV Stick, Android TV devices, Chromecast and Apple Airplay. If you tweet during the event with #Gamera, you will have a chance to win various prizes including copies of Ragone's book, limited-edition "I survived the Gamera marathon" blankets, Famous Monsters of Filmland monster poster, etc.
To prepare you for Saturday, Shout! Factory is doing a live Q&A on their FB page TODAY between 12-2pm with August Ragone! Click here to participate!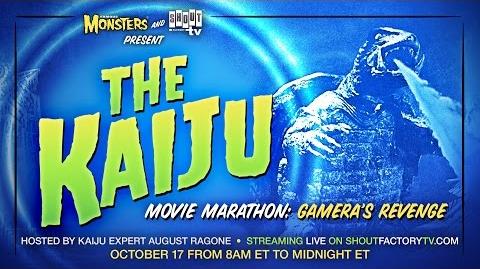 Schedule of Films (Times listed are Eastern time, approximate and subject to change)
8:00 a.m. – Gamera
9:30 a.m. – Gamera vs. Barugon
11:00 a.m. – Gamera vs. Viras
12:30 p.m. – Gamera vs. Guiron
2:00 p.m. – Gamera vs. Jiger
3:30 p.m. – Gamera vs. Zigra
5:00 p.m. – Gamera: Super Monster
6:30 p.m. – Gamera: Guardian of the Universe
8:00 p.m. – Gamera 2: Attack of Legion
10:00 p.m. – Gamera 3: Revenge of Iris
Which Gamera film are you excited to rewatch this Saturday? Share in the comments below!
---
---