Comments

6
Batman vs. Godzilla was a real thing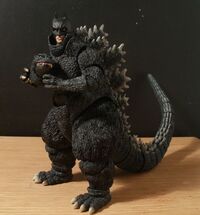 So, it's easy to look and say "pfft, that can't be true." But... you know how some people get in contact and find out if things are true or not? Well, http://www.kotaku.jp/2014/04/godzilla_secret.html
BuzzFeed has listed Batman vs. Godzilla as a factual, actual thing that was planned... Of course, they used it as more of a joke, but more than just BuzzFeed has put that. And they're what you might consider actual "reliable" sources. They're not just fan sites.
Oh, and Japanese Wikipedia lists it as an unmade project.
So that settles it. Batman was originally going to fight Godzilla in the Showa era.
Ad blocker interference detected!
Wikia is a free-to-use site that makes money from advertising. We have a modified experience for viewers using ad blockers

Wikia is not accessible if you've made further modifications. Remove the custom ad blocker rule(s) and the page will load as expected.