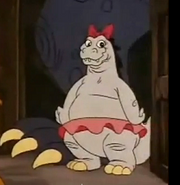 Well well well, I was rewatching my favorite Scooby Doo TV special, Scooby Doo and the Ghoul School. And it turns out, Minya, Godzooky and Jr. aren't the only offspring Godzilla had. And as you can see, it's similar to Hannah Barbera's Godzilla design. Her and Godzilla appear at the end, after the original group of daughters went home with their parents. Think we should add her to the Wiki? 
Ad blocker interference detected!
Wikia is a free-to-use site that makes money from advertising. We have a modified experience for viewers using ad blockers

Wikia is not accessible if you've made further modifications. Remove the custom ad blocker rule(s) and the page will load as expected.