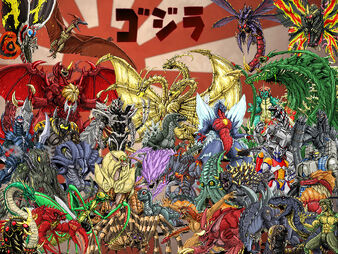 This a tournament of Godzilla- 32 monsters clasificated! These are the monsters:
Godzilla
King Ghidorah
Mothra
Rodan
Kiryu
Monster X/Keiser Ghidorah
Anguirus
Minilla
Godzilla Junior
Gigan
MechaGodzilla 2
MechaGodzilla
Destoroyah
Biollante
SpaceGodzilla
Mothra Larva 1
Mothra Larva 2
Hyper Mecha King Ghidorah
Jet Jaguar
Manda (wins elimination vs kumonga)
King Caesar (wins elimination vs baragon)
M.O.G.U.E.R.A 
Bagan
Godzooky
Krystalak (wins elimination vs gorosaurus)
Titanosaurus
Obisidium (wins elimination vs Battra
Zone Fighter 
M.U.T.O male (wins elimination vs megalon)
M.U.T.O female (wins elimination vs hedorah)
Zilla 
Varan (Wins elimination vs megaguirus)
The monsters accomodate in battles in raffle
Mothra vs Obisidium
Titanosaurus vs Zone Fighter
Godzilla vs Gigan
Rodan vs Hyper Mecha King Ghidorah
Mothra Larva 1 vs Anguirus
Minilla vs Krystalak
King Ghidorah vs SpaceGodzilla
Zilla vs Biollante
Kiryu vs Monster X/Keiser Ghidorah
Godzooky vs King Caesar
MechaGodzilla  vs Mothra Larva 2
Destoroyah vs M.U.T.O male
Varan vs M.U.T.O Female
Godzilla Junior vs M.O.G.U.E.R.A
Bagan vs MechaGodzilla 2
Jet jaguar vs Manda
Now in one battle vote what think you what is the best for each battle (the most powerful) only one vote example Bagan vs Mechagodzilla 2 you vote for mechagodzilla and in the next battle Jet jaguar vs Manda you vote for jet jaguar the votation close in a week the monster who win go to the next round and the monster who loose is eliminited with no more participation if a monsters have equal number of votes they have to repeat
Ad blocker interference detected!
Wikia is a free-to-use site that makes money from advertising. We have a modified experience for viewers using ad blockers

Wikia is not accessible if you've made further modifications. Remove the custom ad blocker rule(s) and the page will load as expected.