Hello. The Cloverfield Monster here. Here is yet another movie idea created by me. This time it's Godzilla vs Gamera.
Here's the concept
In 1954...Godzilla was born. In 1965...Gamera was created. After 50 years of destruction, these 2 icons will finally come face to face in a clash of epic proportions.
Plotline
It's 2010 and Godzilla has come to wreak havoc on Tokyo yet again. He rampages through Tokyo destroying everything in his way. When all hope seems lost, the children of Japan call upon Gamera, the friend of all children. Gamera goes to Tokyo to confront Godzilla and save Japan. The 2 get in an epic clash of the titans. One shall stand. One shall fall.
And you get to decide who shall win.
Poster
Here's the movie poster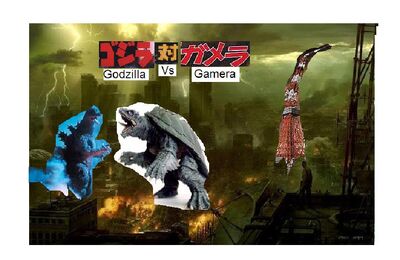 Ad blocker interference detected!
Wikia is a free-to-use site that makes money from advertising. We have a modified experience for viewers using ad blockers

Wikia is not accessible if you've made further modifications. Remove the custom ad blocker rule(s) and the page will load as expected.