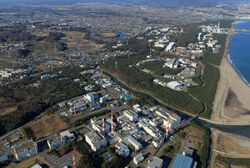 Tōkai (東海村,   Tokai-mura?) is a large village in Ibaraki Prefecture, Japan. It is famous for its Nuclear Power Plant, the first of its kind to be built in Japan, although it is currently being decommissioned after the damage caused by the 2011 Earthquake. The town and its power plant both appear in the 1999 Godzilla film, Godzilla 2000: Millennium and the 2000 Godzilla film Godzilla vs. Megaguirus.
History
Godzilla
came ashore at Tokai in order to feed on the reactors at its power plant. The
J.S.D.F.
engaged Godzilla outside of the village, using their new
Full Metal Missile Launchers
. Godzilla was mostly unfazed by the military's attacks, but he was suddenly confronted by a giant
floating rock
, which blasted Godzilla back into the ocean with a laser cannon fired from its side.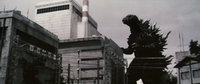 After Godzilla emerged from the sea in 1966, he attacked Tokai and its power plant, gaining energy from its radiation.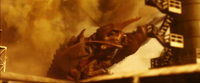 To be added

TOH
MIL
Ad blocker interference detected!
Wikia is a free-to-use site that makes money from advertising. We have a modified experience for viewers using ad blockers

Wikia is not accessible if you've made further modifications. Remove the custom ad blocker rule(s) and the page will load as expected.