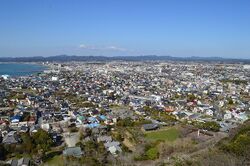 Tateyama (館山市,   Tateyama-shi?) is a city located in Chiba Prefecture, Japan. It appears in the opening of the 2002 Godzilla film, Godzilla Against MechaGodzilla.
History
In a dark and stormy night, 45 years after the first Godzilla attack, a second one rises and begins laying waste throughout. The Anti-Megalosaurus Force was called to stop the monster with their Maser Cannons, but nothing worked, and 8 soldiers end up getting killed by Godzilla, when he stomped on the vehicle they were in, much to Akane's horror.

Ad blocker interference detected!
Wikia is a free-to-use site that makes money from advertising. We have a modified experience for viewers using ad blockers

Wikia is not accessible if you've made further modifications. Remove the custom ad blocker rule(s) and the page will load as expected.