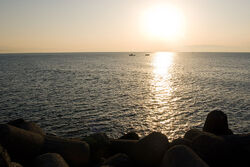 Suruga Bay (駿河湾,   Suruga-wan?) is a bay on the Pacific coast of Honshu in Japan. It appears in the 1971 Godzilla film, Godzilla vs. Hedorah
History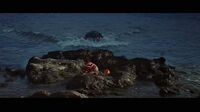 As the waters in Suruga Bay became increasingly polluted, local fisherman could no longer catch any edible fish or shrimp from the bay. One fisherman caught a strange black tadpole-like creature in the bay and brought it to local marine biologist Toru Yano. Perplexed by the creature, which resembled no sea life he had ever encountered or studied, Dr. Yano donned a diving suit and went under Suruga Bay while his son Ken waited from a distance. Suddenly, a huge black creature resembling the tadpole that Dr. Yano was studying emerged from the bay and jumped at Ken. Ken cut the creature's underbelly with a knife, causing his hand to be burned by the creature's acidic body. The creature dove back into the water and swam towards Dr. Yano, who was helpless when the creature descended upon him. Thankfully, Dr. Yano survived the attack, but was horrifically burned on half his face. Yano realized that whatever the creature was, it presented a serious danger to humanity and must be stopped.

REL
LOC
Ad blocker interference detected!
Wikia is a free-to-use site that makes money from advertising. We have a modified experience for viewers using ad blockers

Wikia is not accessible if you've made further modifications. Remove the custom ad blocker rule(s) and the page will load as expected.