SoshingekiGoji
Comments

2
1,216articles on
Wikizilla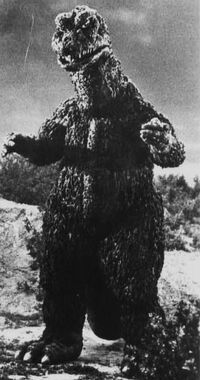 SoshingekiGoji
(総進撃ゴジ
?
) is the Godzilla suit used in
Destroy All Monsters
,
All Monsters Attack
,
Godzilla vs. Hedorah
and
Godzilla vs. Gigan
.
Detail
One of the more popular Godzilla designs, the SoshingekiGoji suit featured a bell-shape body with a pronounced breast bone, a long neck and a head somewhat similar to the DaisensoGoji, with defined brows and more menacing eyes than the previous DaisensoGoji and MusukoGoji suits. The eyes on this suit did not move, though the eyelids flutter briefly in the scene when King Ghidorah flies overhead at Mt. Fuji in Destroy All Monsters. This was the most used suit in the Showa Godzilla series, and this was very evident in the suit's final appearance, Godzilla vs. Gigan, for in one scene where Godzilla is on top of Gigan and punching him, one can actually see pieces of the suit flying off. This suit is also called the AllKaijuGoji in All Monsters Attack, HedoGoji in Godzilla vs. Hedorah and GiganGoji in Godzilla vs. Gigan.

Gallery