SoshingekiAnguirus
Comments

2
1,216articles on
Wikizilla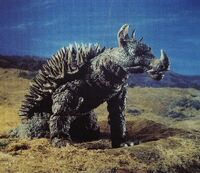 SoshingekiAngurius
is the
Anguirus
suit used in
Destroy All Monsters
,
Godzilla vs. Gigan
and
Godzilla vs. MechaGodzilla
.
Detail
The diffrences that are seen in the SoshingekiAngurius suit is that the neck is wider, and more musclar. The eyes are little larger, giving Anguirus a more heroic appearance, just like the Godzilla it appeared with. The teeth are shorter, now with fangs, and the carapace no longer flops up and down. The spikes on the carapace are now more scatter than in a straight line. This suit was also used for Anguirus' brief appearance in the opening of Godzilla vs. Megalon, and in Godzilla vs. MechaGodzilla, the fangs were removed. This suit is also known as the GiganAnguirus in Godzilla vs. Gigan and MekaAnguirus in Godzilla vs. MechaGodzilla.
Gallery
Trivia
The SoshingekiAnguirus suit was applied with much fame amongst fans, and was the most well known amongst the other Anguirus suits, for appearing in video games, toy lines and television shows.