Species

Nicknames

Height

?? meters (Human size)
?? meters (Giant size)

Length

Weight

?? kg (Human size)
?? tons (Giant size)

Forms

Allies

Enemies

Relationships

Controlled by

First Appearance

Roar
Sibilegon (シビレゴン?) is a a kaiju created by Toho that first appeared in Assault! Human.
Appearance
Visually, Sibilegon resembles a humanoid feline with robotic parts attached to its body. It has a large central console where its chest would be, and its head is almost spherical with binocular-like eyes and a wrinkled, deformed face. It has armour over its legs, and a very long tail.

History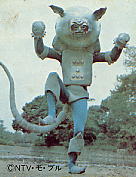 Sibilegon was sent out by
King Flasher
and was later defeated.
Shibregon was the thirty-third monster to battle Greenman.

Abilities
In Assault! Human, Sibilegon could fire lasers from its fingertip.
Sibilegon is able to become transparent.
Sibilegon can open portals into his own separate dimension.