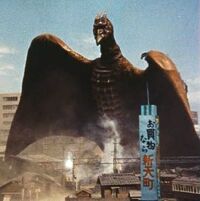 ShodaiRado (初代ラドン) is the
Rodan
design used in
Rodan
.
Detail
The ShodaiRado is popular amongst fans. The suit featured a large, but slim body, enormous wings and a large jagged-head. This Rodan's face was different from the other suits; It's beak was more jagged and actually showed teeth inside the mouth, though in some movies like Godzilla vs. MechaGodzilla 2 some of the other Rodan suits bear teeth as well, it's brows covered it's eyes and is unknown if this Rodan had any pupils ,depicted in models of the suit, is a possible suggestion. It also had some very jagged horns on it's head.
Gallery
Trivia
This is was the only Rodan suit that had Mahogany color to it.
ShodaiRado is probably one of the most menacing Rodan suits ever made. In fact, the Rodan suit in Godzilla: Final Wars, FinalRado, is practically based off of this suit.