ShodaiGoji
Comments

0
1,210articles on
Wikizilla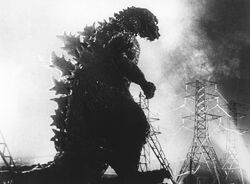 ShodaiGoji
(初代ゴジ
?
) is the Godzilla suit used in
Gojira
/
Godzilla, King of the Monsters!
.
Detail
The ShodaiGoji is popular with fans who prefer the first, darker toned Godzilla film. This suit featured a heavy lower body, small arms and a large, round head. The face had pronounced brows while the eyes were completely round with tiny pupils, a feature unique to this costume. The suit also included several features particular to itself and to the GyakushuGoji: fangs, four toes, a rough underside for the tail and pointed tail tip, and staggered rows of dorsal plates (these features would reappear with the "second" series of Godzilla films from 1984 to present). The dorsal plates for both the ShodaiGoji and the GyakushuGoji were dynamic in design and unique to the two costumes. During filming, a separate pair of Godzilla legs were used for close-up shots of Godzilla's feet.
Gallery
Trivia