ShodaiGhido
Comment

1
1,221articles on
Wikizilla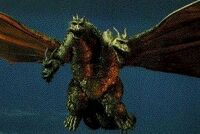 ShodaiGhido
is the
King Ghidorah
suit used in
Ghidorah, the Three-Headed Monster
,
Invasion of Astro-Monster
,
Destroy All Monsters
,
Godzilla vs. Gigan
and
Zone Fighter
.
Detail
Originally, before production of Ghidorah, the Three-Headed Monster, this suit had purple scales and rainbow-colored detail on the wings, but later on, the entire body is recolored into a gold color. The heads of this suit has two curved horns on both sides with a crescent in the middle and a mane on each one, much like the appearance of a Chinese or Japanese Dragon. The actor is inside the middle head and the necks are controlled by wires. The suit is also called DaisensoGhido in Invasion of Astro-Monster, SoshingekiGhido in Destroy All Monsters, and GiganGhido in Godzilla vs. Gigan.
Gallery