RadoGoji
Comments

3
1,216articles on
Wikizilla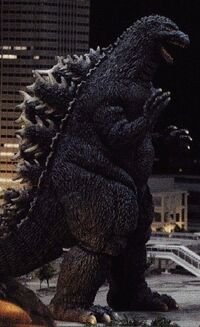 RadoGoji
(ラドゴジ
?
) is the
Godzilla
suit used in
Godzilla vs. MechaGodzilla 2
.
Detail
Though similar in appearance to its predecessor, the RadoGoji suit was bulkier, particularly in profile, while the head appeared to be wider than the BioGoji and BatoGoji suits. The shoulders on the latter suit appeared to be smaller. The legs of the RadoGoji suit are slimmer, while the tail is more moveable. As with the BatoGoji suit, the head of the RadoGoji could tilt independently of the body.
In Godzilla vs. SpaceGodzilla, the 1993 RadoGoji suit was used for Godzilla's entrance and exit at Birth Island, and when SpaceGodzilla levitates Godzilla and hurls him into a building. In one scene, which is cut out, the tail tip of the suit fell off during the water scenes.
The 1993 RadoGoji suit was again employed for water scenes in Godzilla vs. Destroyah. This time, the suit was modified to match the critical mass appearance of the main filming suit, DesuGoji. Since the costume would only be seen waist-deep in the water, the legs and tail were removed, as was previously done with the 1992 BatoGoji suit for Godzilla vs. SpaceGodzilla.
Gallery