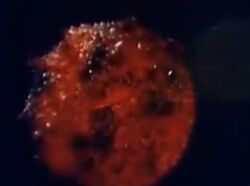 Garoga is the Garoga's home planet. It first appears in the 1973 Toho tokusatsu series, Zone Fighter.
History
In Zone Fighter not much is said about Garoga other than that it is near Peaceland, and that the two planets are enemies. The Garogas launch an attack on Peaceland, and kill almost all of its residents beside the Zone Family. They also later destroy the planet with missiles.
Filmography
Ad blocker interference detected!
Wikia is a free-to-use site that makes money from advertising. We have a modified experience for viewers using ad blockers

Wikia is not accessible if you've made further modifications. Remove the custom ad blocker rule(s) and the page will load as expected.