Giant Octopus
Nomenclature

Nickname(s):

Daidako,
Oodako,
Giant Devilfish

Biological Information

Species:

Giant Octopus

Forms:

None

Height:

Length:

None

Weight:

Affiliation Information

Allies:

None

Enemies:

Relationships:

None

Production Information

Designs:

ShodaiDako
FurankenDako

Audio:

More Roars

First appearance:

Last appearance:

 
The Giant Octopus (大ダコ,   Oodako?, lit. Large Octopus) is a giant octopus kaiju created by Toho that first appeared in the 1962 Godzilla film, King Kong vs. Godzilla.
Name
Toho's official name for the creature is "Oodako," or "Giant Octopus," as shown in promotional material for Godzilla: Tokyo S.O.S.[1] as well as the Godzilla.jp website.
Roar
While the creature doesn't have a formal roar, it does create sounds, mainly consisting of slimy bodily movement, and seeming growls.
History
In King Kong vs. Godzilla, the giant octopus crawls ashore on Farou Island and attacks a village hut in an attempt to get the special soma berry juice that the natives store there. The natives, along with members of a pharmaceutical company, attempt to defeat the giant octopus with spears and shotguns, but to no avail. King Kong then appears behind a giant wooden fence, crumbling it with his bare hands and throwing the pieces at the giant octopus. Kong grabs it, but the octopus holds tightly on to Kong's head. After a short struggle, Kong pulls the monster off and throws it to the ground. He then throws two boulders at the giant octopus' head. The giant octopus flees back to the beach and presumably returned to the sea.
In the alternate ending for the film, after Frankenstein defeats Baragon, a giant octopus comes from the sea and fights Frankenstein. Frankenstein battles fiercely, but can't compete with the giant octopus' numerous and powerful tentacles. It drags Frankenstein into the water, seemingly to his death.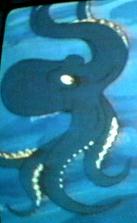 In War of the Gargantuas, a giant octopus attacks a fishing boat, but is defeated by the Green Gargantua, Gaira.
This version of the giant octopus is awakened by the explosion of an experimental torpedo. Godzilla battles the monster before it could destroy the submarine the torpedo came from and defeats it by tying up its tentacles and sealing it back in its underwater cave. In addition to powerful tentacles this version could also emit ink which the previous versions did not do.
Video games
The giant octopus makes its only known video game appearance in the 1995 game Godzilla: Heart-Pounding Monster Island!! for the Sega Pico. In this game, the giant octopus appears on the second page, and will spit ink at Godzilla if the player causes a battleship to fire a cannon at a tree, which drops a coconut on the octopus' head. The giant octopus can also initiate a minigame, where the player must solve different puzzles based on the tentacles the giant octopus is holding up.
Trivia
List of appearances
Films
Miscellaneous films
Television series
Video games
References