Meganulon
Comment

1
1,582articles on
Wikizilla
Species

Nicknames

Wingspan

Length

8 metersROD
2 metersGXM
2 meters (Meganula)

Weight

1 tonROD
500kgGXM
1 ton (Meganula)

Forms

Allies

Enemies

Relationships

Controlled by

Created by

Portrayed by

First Appearance

Latest Appearance

Designs

Roar
Meganulon (メガヌロン?, Meganuron), also known as Meganula (メガニューラ?, Meganyūra) are giant Mesozoic insect kaiju created by Toho, that first appeared in the 1956 Toho film, Rodan.
Name
The Meganulons' name comes from Meganeura, a species of extinct dragonflies from the Carboniferous period approximately 300 million years ago.
Origins
Presumably, the Meganulons, like Rodan, are from the Cretaceous Period. They were awakened by mining operations in Kitamatsu village, Kumamoto Prefecture.

History
The Meganulon were a race of prehistoric insects in the movie Rodan. They were first awakened during a mining operation, and attacked and ate a few trapped miners. They escaped the mine and attacked a nearby village. A team was sent into the mine to exterminate the Meganulons. Shigeru, a member of the team, found an egg in the cave which hatched into Rodan. Rodan ate the Meganulons in the cave until it had enough strength to fly away.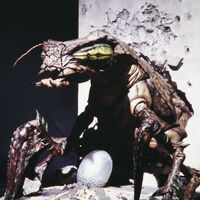 The Meganulon were prehistoric insects that were released into the modern world through a black hole experiment. A giant dragonfly flew through a black hole and laid an egg in the forest, which was discovered and taken home by a young boy. The boy dumped the egg into the sewers of Tokyo when it started to ooze. The egg hatched into several Meganulons, which flooded the city and attacked and killed several citizens before molting into Meganula.



Meganula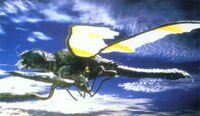 The Meganula (メガニューラ

?

, Meganyūra) were the second form of the Meganulon. They attacked Godzilla to steal his energy for their queen. Godzilla managed to kill most of the Meganula, but some escaped with his energy. They flew to Tokyo and gave the energy to Megaguirus, dying in the process.



Comics
In Rulers of Earth #17, Lucy Casprell and her team travel to Brazil, where a large number of Meganulon eggs have been uncovered in a nearby rainforest. As Lucy and her team investigate the eggs, the Meganulons hatch and attack all of the humans in the area. As the Meganulons move into Sao Paulo, Godzilla and Ebirah suddenly surface and continue their battle. The Meganulons climb onto Ebirah and pierce through his shell while Megaguirus arrives and enters the battle. After Ebirah retreats and Megaguirus captures Godzilla, she brings him to her nest, where hundreds of Meganulons and Meganula surround him.

In Godzilla: Cataclysm #3, the Meganula arrive in the refugees' village along with Megaguirus in order to feed on Biollante, who is still regenerating from her battle with Godzilla. Mothra arrives to protect Biollante and battles Megaguirus. The Meganula attempt to swarm and bite Mothra, but are knocked away by her wings.
Gallery
Main article: Gallery:Meganulon.
Roar
Meganulon's chirps were erroneously used for Mothra Larva's cry in the Japanese Mothra vs. Godzilla trailer.
In Other Languages
Trivia
The Meganulon is an actual species of giant dragonfly that lived during the Devonian Period nearly 300 million years ago. Of course, the real Meganulon never reached the size of the monsters that appeared in Rodan and Godzilla vs. Megaguirus.
Poll