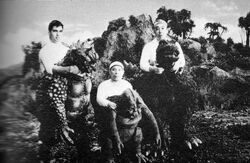 Masao Fukazawa (深沢政雄) (1921-2000), also known as Little Man Machan (小人のマーチャン), was the suit actor who portrayed Minilla in the Showa series. He also made an appearance in the North Korean film Pulgasari as the Juvenile Pulgasari.
Filmography
Ad blocker interference detected!
Wikia is a free-to-use site that makes money from advertising. We have a modified experience for viewers using ad blockers

Wikia is not accessible if you've made further modifications. Remove the custom ad blocker rule(s) and the page will load as expected.