Godzilla is disappointed in this article. Please help Wikizilla by adding some relevant content!


A user has the following suggestion:

Needs more information


You can improve this article by contributing useful information to this page yourself, or help by discussing ideas on the talk page.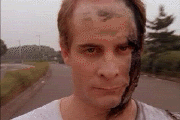 M11 was (or will be) the latest and strongest android of it's time (2204 AD). He can run faster than a car and lift many tons. He appears in
Godzilla vs. King Ghidorah
. His concept is most likely inspired by Arnold Schwarzenegger's portrayal as The Terminator from the movie of the same name.