Lightning Bug
Comment

1
1,181pages on
this wiki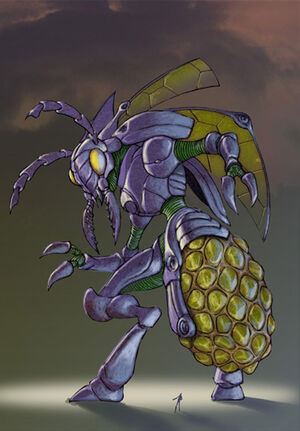 Lightning Bug
is the name of a kaiju conceptualized for use in the video game
Godzilla: Unleashed
. This monster, along with two others,
the Visitor
and
Fire Lion
, were not used in the final build of said game.
An experiment to weaponize alien crystal energy goes terribly wrong when a tiny firefly buzzes into the focused energy stream. The fly survives just long enough to lay her eggs in the test facilities cooling ponds. One of the eggs mutates and produces this uber bug. The Lightning Bug has hover flight, which allows her to unfold her wings and hover short distances. Her Armor Wings also serve as a shield from physical and energy attacks.
Modeler/ Animator Will Short described the monster's abilities: "The Lightning Bug is a genetically-engineered cyborg developed from a host of insect DNA and grafted with a multi-alloy chassis by a hostile alien race. Lightning Bug's design was a combination of the armor from EVA-01 of NEON GENESIS EVANGELION fame and the bioluminescent appearance of the Drej from TITAN A.E. The cyborg's chief offensive capabilities are based on its incredible capacity for raw energy as well as its unique ability to absorb ambient energy from its surroundings. Lightning Bug's energy core is located in its constantly glowing tail while its large wings can generate a tremendous amount of power when raised to produce a massive blast of energy. Though the chassis provides excellent armor, the extra durability is merely a fortunate by-product of its true nature as a non-conductive harness meant to contain the unstable energies constantly radiated from the cyborg's body. Normally, the chassis emits a soft green glow from its plate binding, but the color might occasionally become orange when it sustains massive trauma and containment is compromised." Lightning bug would probably have been a mutant if it were in the game.