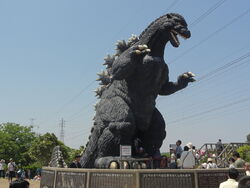 The
Godzilla slide at the Kurihama Flower World
is a giant statue of the Heisei
Godzilla
designed as a slide for children.
Information
The 45-meter-long, 8.75-meter-tall, 5-ton Kurihama Godzilla statue is located in the "Adventure Land" (冒険ランド?) section of the Kurihama Flower World, along with other slides. Only children under the age of 12 may slide down Godzilla's tail, however, children under the age of 5 need the accompaniment of an adult. At the base of the pedestal Godzilla is located, a list of people who donated to have the slide built.
History
The project began when the community started gathering funds for a Godzilla slide in the late 90's. Over a hundred thousand people and 203 companies, including Toho, got involved.[1] The slide was finished in fall of 1999.
Gallery
External Links
References