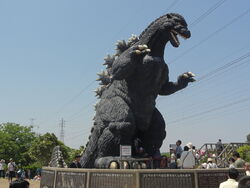 The
Godzilla slide at the Kurihama Flower World
is a giant statue of the Heisei
Godzilla
designed as a slide for children.
Information
The 45-meter-long, 8.75-meter-tall, 5-ton Kurihama Godzilla statue is located in the "Adventure Land" (冒険ランド?) section of the Kurihama Flower World, along with other slides. Only children under the age of 12 may slide down Godzilla's tail, however, children under the age of 5 need the accompaniment of an adult. At the base of the pedestal Godzilla is located, a list of people who donated to have the slide built.
History
The project began when the community started gathering funds for a Godzilla slide in the late 90's. Over a hundred thousand people and 203 companies, including Toho, got involved.[1] The slide was finished in fall of 1999.
Gallery
External Links
References
This is a list of references for Kurihama Godzilla Slide. These citations are used to identify the reliable sources on which this article is based. These references appear inside articles in the form of superscript numbers, which look like this: [1]
Ad blocker interference detected!
Wikia is a free-to-use site that makes money from advertising. We have a modified experience for viewers using ad blockers

Wikia is not accessible if you've made further modifications. Remove the custom ad blocker rule(s) and the page will load as expected.