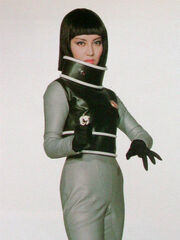 Best known for her role of Miss Namikawa in Invasion of Astro-Monster (1965). Kumi Mizuno is, indisputably, Toho's most popular actress. Mizuno was born in 1937 with the birth name Maya Igarashi. By the time she started working for Toho on A Bridge for Us Alone (1958), her second movie, her name had changed to Kumi Mizuno. In the late 50's and early 60's Mizuno's career was booming, and she quickly became a favorite of director Ishiro Honda. Mizuno was often paired with Nick Adams, whenever he did a film for Toho; consequently, rumors of a romance between the two were common occurrence until Mizuno denied it during a interview in 1996. Despite the huge number of films she did early on in her career, Mizuno is best known for her Sci-fi roles in the two Godzilla films and the two Frankenstein films done by Toho in the mid 60's. She became such a cult figure amongst the kaiju fandom that Toho brought her back in 2002 to play a role in Godzilla Against Mechagodzilla and again in 2004 for Godzilla: Final Wars.
Acting Toho Filmography
A Bridge for Us Alone (1958) - Chie Kimura
A Holiday in Tokyo (1958)
The Spell of the Hidden Gold (1958)
Herringbone Clouds (1958)
The Three Treasures (1959) - Azami
President Taiheiki (1959)
Whistle in My Heart (1959)
One Day I... (1959) - Hideko Kawamura
Seniors, Juniors, Co-Workers (1959)
Fox and Tanuki (1959) - Sagawa Kayoko
Lips Forbidden to Talk (1959)
Wanton Journey (1960)
The Gambling Samurai (1960) - Kiku
Westward Desperado (1960)
Challenge to Live (1961)
The Merciless Trap (1961)
The Crimson Sea (1961)
B.G. Story: Nijusai and the Journal (1961)
Witness Killed (1961)
Counterstroke (1961)
Big Shots Die at Dawn (1961)
The Underworld Bullet Marks (1961)
Kill the Killer! (1961)
Gorath (1962)
Woman of Design (1962)
The Crimson Sky (1962)
Operation X (1962)
Operation Enemy Fort (1962)
Chushingura (1962) - Saho
Weed of Crime (1962)
Matango (1963) - Mami Sekiguchi
Samurai Pirate (1963) - Miwa, Rebel Leader
Sink or Swim (1963) - Tomie Tazawa
Warring Clans (1963)
Interpol Code 8 (1963)
Trap of Suicide Kilometer (1964)
Jigoku Sakusen (1964)
Blood and Diamonds (1964)
Whirlwind (1964) - Witch
Frankenstein vs. Baragon (1965) - Sueko Togami, Doctor
Key of Keys (1965)
Invasion of Astro-Monster (1965) - Miss Namikawa
White Rose of Hong Kong (1965)
Ebirah, Horror of the Deep (1966) - Daiyo
The War of the Gargantuas (1966) - Akemi
The Killing Bottle (1967)
Love is in the Green Valley (1974) - Mother
Mysterious Robber Ruby (1988)
Rainbow Kids (1991) - Kanako Yanagawa, 1st Daughter
Graduation Journey: I Came from Japan (1993)
Godzilla Against MechaGodzilla (2002) - Machiko Tsuge, Prime Minister
Godzilla: Final Wars (2004) - Akiko Namikawa, Earth Defense Force Commander
Ad blocker interference detected!
Wikia is a free-to-use site that makes money from advertising. We have a modified experience for viewers using ad blockers

Wikia is not accessible if you've made further modifications. Remove the custom ad blocker rule(s) and the page will load as expected.