Kobe  (神戸市,   Kōbe-shi?) is a port city in Japan, and is the capital city of Hyōgo Prefecture. It is located on the southern side of the main island of Honshū. It appears in the 1966 Gamera film, Gamera vs. Barugon and the 1994 Godzilla film, Godzilla vs. SpaceGodzilla.
History
To be added.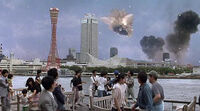 While en route to Fukuoka, SpaceGodzilla flew over the city of Kobe, causing the buildings below him to crumble and explode as the fleeing citizens looked on in terror.

Ad blocker interference detected!
Wikia is a free-to-use site that makes money from advertising. We have a modified experience for viewers using ad blockers

Wikia is not accessible if you've made further modifications. Remove the custom ad blocker rule(s) and the page will load as expected.