King Kong Appears in Edo (1938 film)
Comments

0
1,167articles on
Wikizilla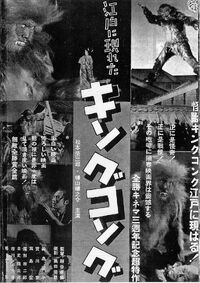 King Kong Appears in Edo
is
kaiju
film released in
Japan
in 1938.
An unofficial and enigmatic Japanese-made monster/period piece by studio Zenkatsu in which King Kong attacks medieval Edo (the former name of Tokyo), it was one of Japan's first kaiju films, predating Godzilla by sixteen years. Although inaccurate to its historical setting, some Caligari-esque expressionistic buildings were added for Kong to climb. The film is now completely lost after either the atomic bombing in Japan or the Kanto Earthquake.
Fuminori Ohashi, who would later create the suit for Godzilla in the original 1954 film, created the ape suit and special effects for this film. He explained, "The first model making to be counted as 'special art direction' in Japanese cinema was a giant gorilla which I did for the movie King Kong Appears in Edo fifty years ago. It was also the first movie to feature certain kinds of special effects."
NOTE: There is a video on Youtube that claims to be the lost footage of King Kong Appears in Edo. He did not confirm it to be real or fake but it is fake due to its high quality for a 1938 film, and the most obvious fact that he used footage from a movie named Yeti: Giant of the 20th Century, and that it used footage of a Japanese man with a gun, while the film was supposed to be set in medieval Japan and also the use of Tiger roars that were actually recorded in the middle of the 20th century.