Toho Kaiju
Kamoebas
Length
20 meters
Mass
28,000 tons
Abilities
Hard carapace, extendable neck
First appearance
Space Amoeba (1970)
Kamoebas (カメーバ) is a rock turtle monster that first appeared in Toho's 1970 film "Space Amoeba", and reappeared as a dead body in "Godzilla: Tokyo S.O.S." in 2003.
Showa
After Ganimes was destroyed, Yog turned to a rock turtle and made Kamoebas. It also made another Ganimes. But bats fled from a nearby cave and made Yog lose control of the monsters. They battled each other up the mountain in the center of the island and both fell into the volcano, destroying themselves and Yog forever.
Millennium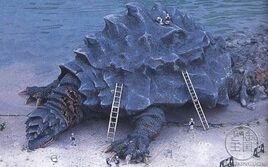 The gigantic chelonian Kamoebas, long after his first appearance in the 1970 film
Space Amoeba
, made a brief appearance in the film
Godzilla: Tokyo S.O.S.
, to the surprise of many fans.
In the film, news agencies and the JSDF swarmed to a small part of the coast of Japan. A dead Megalo matamata, or Kamoebas, had washed ashore in the night. As it was investigated they noticed large rips in its neck. It had been killed by none other than Godzilla.
Trivia
In the movie Godzilla: Tokyo S.O.S., Anguirus was supposed to be the monster whose carcass washes ashore, not Kamoebas. However, staff thought that putting Anguirus in that role would draw negative fan reactions, so they changed the monster to Kamoebas. Another reason may be because Anguirus is traditionally Godzilla's ally.