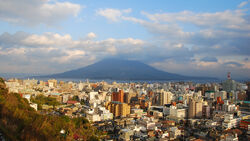 Kagoshima (鹿児島,   Kagoshima?) is a large Japanese port city on the southern island of Kyushu, and is on the coastline of Kagoshima Bay.
History
Whilst tracking SpaceGodzilla, Godzilla enters Kagoshima through Kagoshima Bay. A DD-122 Hatsuyuki attacks Godzilla, but he blows it up with a blast of his atomic breath. Helicopters also fly around Godzilla, and some of them fire at him, but he mostly ignores them. M.O.G.U.E.R.A. is then sent in by air to engage Godzilla, but their pilots decide to follow Godzilla instead, as they realize that he is headed on a direct course across Kyushu to Fukuoka, where SpaceGodzilla has just touched down.

REL
LOC
Ad blocker interference detected!
Wikia is a free-to-use site that makes money from advertising. We have a modified experience for viewers using ad blockers

Wikia is not accessible if you've made further modifications. Remove the custom ad blocker rule(s) and the page will load as expected.