Jupiter (木星?, Mokusei) is the largest planet in our Solar System and is the fifth closest to the Sun. Jupiter is referenced and appears in several of Toho's Godzilla series and other tokusatsu movies.
History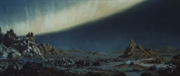 Planet X is specified to be somewhere between Mars and Jupiter by the Xiliens. Planet X is very close to Jupiter, with the gas giant covering most of the planet's night sky.

To be added
Ad blocker interference detected!
Wikia is a free-to-use site that makes money from advertising. We have a modified experience for viewers using ad blockers

Wikia is not accessible if you've made further modifications. Remove the custom ad blocker rule(s) and the page will load as expected.