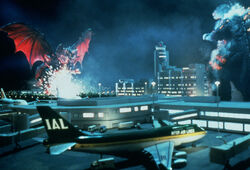 Inter Air Lines
(インター·エアラインズ
?
,
Intā Earainzu
) is a fictional airline company that appears in the
1995
Godzilla
film
,
Godzilla vs. Destoroyah
. They operate a fleet of
Boeing 747s
.
History
Flying out from the Haneda Airport in Tokyo, Japan, the 747s are disturbed as the battle between Godzilla and Destoroyah continues. Some of the planes are destroyed by beams shot by both monsters, and all flights stop for the time being after Godzilla is dragged along the Tarmac by Destoroyah.
Trivia
An airline called Inter Airlines existed in real life, but it operated from Turkey instead of Japan.
Ad blocker interference detected!
Wikia is a free-to-use site that makes money from advertising. We have a modified experience for viewers using ad blockers

Wikia is not accessible if you've made further modifications. Remove the custom ad blocker rule(s) and the page will load as expected.