Cyclops Creature (キュクロプスクリーチャー, Saikuropusu Kuricha) is a mutant kaiju that is cross between a Cyclops and a Crab-like creature. He is the main antagonist of episode 8 of The Godzilla Power Hour.
Powers and Abilities
Energy Beam: The Cyclops Creature can fire a silver energy beam from his eye.
Invisiblility: The Cyclops creature can become invisible at will.
Melee Combat: The Cyclops Creature is very good at melee combat.
Pincer Claws: The Cyclops Creature has large pincers.
History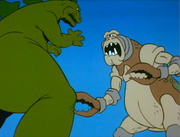 Long ago, a race of aliens landed on Earth and were greeted by the massive cyclops. Not able to kill the beast, they trapped it on the island with a forcefield that rendered the isle invisible. By a struck of luck, a passing comet caused a horrible storm that the Calico was damaged in, and it also broke the force field. Able to enter the island for repairs, the group never expected to find any such creature. The one-eyed fiend attacked Quinn, Pete, and Godzooky, and Godzilla was unable to break the shield with his bare hands. Fortunately the group did manage to escape and turn down the shield for Godzilla to enter.
The two mega-titans battled one another for the first time and the creature was forced to retreat back into the island. After creating a timing device to activate the shield once out of its range, the Calico readied to leave, but the Horror would have no such thing happen. It again attacked Godzilla and this time turned invisible. Unfortunately for the monster, Quinn and Brock began to dump paint on it from their helicopter. Able to see the creature again, Godzilla threw it to the side and began to charge after the Calico to escape the shield's range. After Godzilla passed it, the shield kicked to life and the Horror ran right into it. The cyclops would have to spend another eternity trapped on the forgotten island.
Episode Appearance
Godzilla - Episode #8 "The Horror of Forgotten Island" (October 28, 1978)
Gallery