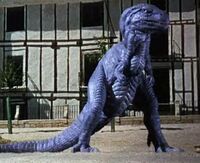 Gwangi
is an
Allosaurus
kaiju from the 1969 film,
The Valley of Gwangi.
It follows the basic allosaurid pattern and has a thick, robust skull with flesh-slicing teeth. Its arms, meanwhile, are elongated with three fingers at the end and its body colour is a dark blue. Perhaps the most notable aspect of this dinosaur kaiju was that its one of the best looking, being superbly animated by
stop motion
genius
Ray Harryhausen
.
This dinosaur, in particular, looks similar to the Ceratosaurus Harryhausen animated for One Million Years BC (1966).
Appearances
Gallery