Species

Nicknames

Height

?? meters (Human size),
?? meters (Giant size)

Length

?? meters (Human size),
?? meters (Giant size)

Weight

?? kg (Human size),
?? tons (Giant size)

Forms

Allies

Enemies

Relationships

Controlled by

First Appearance

Roar
Gowarackdon (ゴワラックドン,   Gowarakkudon?) is a fire-breathing kaiju created by Toho that first appeared in episode 23 of the 1973 tokusatsu series, Go! Greenman titled Greenman vs. Gowarackdon.
Appearance
Gowarackdon somewhat resembles a prosauropod in appearance. His skin is a light gold and covered in elaborate patterns of scales, and he has large, powerful hands.

History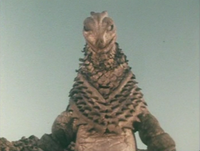 Gowarackdon was the twenty-third monster to battle
Greenman
.
TOH
SHO
Ad blocker interference detected!
Wikia is a free-to-use site that makes money from advertising. We have a modified experience for viewers using ad blockers

Wikia is not accessible if you've made further modifications. Remove the custom ad blocker rule(s) and the page will load as expected.