Godzillasaurus
Comments

0
1,179pages on
this wiki
Toho Kaiju
Godzillasaurus
Species
Theropod (Unknown family)
Form(s)
Godzilla (irradiated form)
Height
12 meters (40 ft)
Weight
66 metric tons
First appearance
Godzilla vs. King Ghidorah (1991)
Created by
Kazuki Omori
Portrayed by:
Hurricane Ryu' Harike
Godzillasaurus (ゴジラザウルス, 'Gojirazaurusu') is a species of theropod Dinosaur (not to get confused with the real dinosaur Gojirasaurus). The lone Godzillasaurus that appears in the Heisei series was mutated by an atomic bomb and became Godzilla.
Appearance and Powers
The Godzillasaurus is different from other theropods because its posture is more upright like a human, and it drags its tail on the ground, much like older Theropod reconstructions. At 12 meters in height, it is much larger than any other theropod species (probably due to it's erect posture). It has a smaller head than a real theropod, and has a double-row of teeth, much like a shark. The Godzillasaurus species is also different from other theropod dinosaurs due to the fact that it contains a second, or "sacral", brain located in its hip to control lower body functions.
As is shown in Godzilla vs. Mechagodzilla II, Godzilla seem to be telepathic, as Baby Godzilla can contact his father. However, it is unknown if an unmutated Godzillasaurus would possess such abilities.

History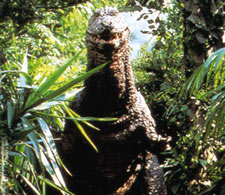 Evidently the Godzillasaurus lived out in Lagos island in
Godzilla vs. King Ghidorah
, and was attacked by soldiers during World War II. This was observed by Futurians that had traveled back in time in a bid to remove Godzilla from history. They transported the mortally wounded creature to the Bering Sea, believing that it would die. However, they are unaware that the Godzilla they had planned to erase was later mutated by a nuclear submarine crash.
Another Godzillasaurus, Baby Godzilla, is found in Rodan's nest in Godzilla vs. Mechagodzilla II (1993). This one seems to have been affected by nuclear energy as well, considering the fact that when it was not fully grown, it was far bigger than the seemingly adult Godzillasaurus. (This is seen in Godzilla vs. SpaceGodzilla.) This Godzilla can fire nuclear blasts, and appeared to have been a herbivore in his youth. However, in Godzilla vs. Destoroyah, this Godzillasaurus is seen eating whales.
Trivia
An actual species of Dinosaur was named the Godzillasaurus, in homage to Godzilla himself. However, this "Godzillasaurus" looks nothing like the ones displayed in the movies.
Like many other monsters in the Heisei era, the Godzillasaurus' roar was "borrowed" from two other kaiju: Rodan (albeit extremely slowed down), and Gamera (sped up) when he screams in agony.
Even though the Godzillasaurus family is strictly unknown in the movie, the possible family name is the Godzillasauridae or Gojirasauridae.