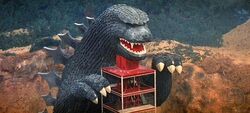 Godzilla Tower
(ゴジラタワーGojira Tawā?)
was the main attraction at World's Children's Land in
Godzilla vs. Gigan
.
Appearance
The Godzilla Tower is made to resemble Godzilla.
History
The Godzilla Tower was inhabited by the M Space Hunter Nebula Aliens who put a giant laser beam in its mouth. It is later destroyed when civilians palt explosives in it and later when King Ghidorah slams Godzilla into the remaining piece of the building.
Weapons
The Godzilla Tower has a powerful laser gun mounted in its mouth. This beam has the power to cause lacerations to whatever it strikes, as well as unleash massive explosions.
Gallery
TOH
SHO
Ad blocker interference detected!
Wikia is a free-to-use site that makes money from advertising. We have a modified experience for viewers using ad blockers

Wikia is not accessible if you've made further modifications. Remove the custom ad blocker rule(s) and the page will load as expected.