The Millennium Godzillas (ゴジラ,   Gojira?) are multiple daikaiju created by Toho, with the first incarnation appearing in the 1999 film Godzilla 2000: Millennium.
Unlike the Showa era Godzilla, or the Heisei Godzilla, every Godzilla within the Millennium continuity, bar the Godzilla present during the events of Godzilla Against Mechagodzilla, and Godzilla: Tokyo S.O.S. are entirely different from one another, due to the series' fractured continuity.
Name
Godzilla's name within the Millennium series follows the convention of that of the Showa era Godzilla, being a transliteration of Gojira (ゴジラ?), a combination of two Japanese words: gorira (ゴリラ?), meaning gorilla, and kujira (鯨 or クジラ), meaning whale.
Appearance
MireGoji
SokogekiGoji
KiryuGoji
FinalGoji
Roar
The roar for the Millennium series was revamped and elongated in length.
Personality
Much like the Heisei Godzilla, the Millennium series of Godzillas have acted in similar animal-like fashions. However, the Godzilla in Godzilla, Mothra and King Ghidorah: Giant Monsters All-Out Attack, was a malicious entity created from the restless souls of the dead from World War II.
Origins
The origins of Godzilla for most of the Millennium series state that he's the second Godzilla within the continuity, after the first Godzilla attacked and was killed in 1954. However, Godzilla vs. Megaguirus states that Godzilla simply went back to the ocean after its first attack in 1954, and attacked periodically over the course of the half-century leading to the present day.
Giant Monsters All-Out Attack states that Godzilla was killed by the Oxygen Destroyer in 1954, but not disintegrated. Later, he was raised from the dead by the souls of the dead from World War II.
Final Wars' Godzilla was awakened by nuclear testing in 1954, however, it wasn't killed by the Oxygen Destroyer, and merely trapped under the Antarctic ice sheet for decades, before rising again.
History
While Toho had intended to place their series on a ten-year hiatus following the release of Godzilla vs. Destoroyah, the negative response to TriStar's 1998 film prompted them to bring Godzilla out of retirement early. Toho produced the film Godzilla 2000: Millennium in 1999 as a direct response to TriStar's take on the character.
This film began the third series of Godzilla films, known as the Millennium series, which ran for six films and ended with Godzilla: Final Wars in 2004. The Millennium series is unique in that, unlike previous series, its films do not all share a single continuity, and are usually completely standalone, using the original film as a backdrop. Only Godzilla Against Mechagodzilla and Godzilla: Tokyo S.O.S. share continuity.
Following the final entry in the Millennium series, Godzilla: Final Wars, which also served as Godzilla's 50th anniversary film, Toho announced that the series would be placed on a ten-year hiatus in order to renew interest.
One night, Godzilla came ashore at Nemuro, destroying a lighthouse and making his way into the heart of the city. Eventually, Godzilla reached an electrical plant and destroyed it.
Yuji Shinoda
, founder of the
Godzilla Prediction Network
(GPN), remarked that it appeared was intentionally destroying mankind's energy sources. Godzilla returned to the ocean, and began to approach
Tokai
, most likely to feed on the
nuclear power plant
there.
Mitsuo Katagiri
, head of the government agency
Crisis Control Intelligence
, ordered the plant's reactors to shut down and mobilized the
J.S.D.F.
at Tokai to engage Godzilla. The J.S.D.F. deployed its new cutting-edge
Full Metal Missile Launchers
, which fired armor-piercing missiles which were believed to be able to penetrate Godzilla's hide. Shinoda traveled to Tokai and confronted Katagiri, telling him Godzilla deserved to be studied rather than destroyed, and that there was no way he could kill Godzilla anyway. Katagiri laughed and told Shinoda he would have GPN dismantled before leaving. The next morning, Godzilla swam close to the shore of Tokai, detonating mines in the water. Godzilla finally surfaced and began approaching the shore, withstanding artillery and missile fire from the J.S.D.F. and J.A.S.D.F. with no visible reaction. As Godzilla drew closer to the nuclear plant, the Full Metal Missile Launchers opened fire on him. This time, Godzilla was visibly fazed by the missiles, with chunks of his skin being blown off. While Godzilla was being blasted by the missiles, a gigantic
floating rock
flew over the battlefield and began scanning Godzilla. It proceeded to fire a laser beam from a hole on its side, knocking Godzilla into a building. Godzilla got up and fired his atomic breath at the rock, which fired another laser beam and knocked Godzilla into the ocean. Godzilla swam away, while the rock flew off into the distance. Shinoda returned and surveyed the battlefield, recovering some of Godzilla's flesh that had been blasted off by the missiles. Using CCI's electron microscope, Shinoda and his former colleague
Shiro Miyasaka
discovered that Godzilla's cells had completely healed in a matter of hours with no scar tissue. They learned the secret to Godzilla's regeneration was a substance in his cells called Organizer G-1, which granted him virtually limitless regeneration that made him practically immortal.
The rock was later discovered to be an advanced alien UFO, which was attempting to subdue Godzilla and transfer his genetic material to its occupants so they could adjust to Earth's atmosphere. The UFO descended in the Shinjuku ward of Tokyo and used the City Tower to hack into the city's computer systems, draining all data it could find on Godzilla. After CCI's attempts to destroy the UFO failed, Godzilla emerged from Tokyo Bay to challenge the UFO again. Godzilla walked through downtown Tokyo until he reached Shinjuku. The UFO, still intending to subdue Godzilla, tried to restrain him with tentacles it telepathically formed beneath the street, but Godzilla destroyed them with his atomic breath. The UFO then released a shockwave that caused a skyscraper to collapse onto Godzilla, trapping him beneath the rubble. The ship began absorbing Godzilla's DNA and transferring it to its occupants, which emerged from the UFO in a single collective form. The alien suddenly began convulsing as its body became covered in growths and it finally collapsed to the ground. Godzilla broke free from the rubble and blasted the unmanned UFO, sending it crashing to the ground in a fireball. Just then, the alien stood back up, now mutated into the creature Orga due to its inability to control Godzilla's DNA. Godzilla immediately attacked Orga, but discovered the creature's healing factor was far more advanced than his own. Godzilla tried to blast Orga with his atomic breath, but Orga telepathically summoned the remnants of his UFO, using it to absorb the blast. With the UFO completely destroyed, Godzilla fired his atomic breath at Orga again, causing the beast to be consumed in flames. To Godzilla's surprise, Orga emerged from the fire and began walking toward him, with his gruesome injuries healing in a matter of seconds. Orga bit Godzilla and began draining his DNA, causing him to become covered in green Godzilla-like scales. Godzilla realized that Orga was trying to absorb more of his DNA in order to repair his damaged DNA matrix and become a clone of him. When Orga unhinged his jaw and opened his mouth wide, Godzilla ran headfirst into his maw. Orga began swallowing Godzilla whole, sprouting huge purple dorsal plates on his back. As Orga consumed Godzilla, Godzilla began glowing hot orange and giving off heat. When Orga realized his situation, it was too late as Godzilla unleashed an atomic shockwave that obliterated Orga's entire upper body. Godzilla roared at Orga's headless corpse, which collapsed forward and crumbled to dust. Godzilla then approached a rooftop where several people, including Shinoda and Katagiri were standing. Katagiri refused to move, and lit a cigarette as he remarked he had never seen Godzilla that close before. Katagiri looked up at Godzilla and screamed his name, as Godzilla destroyed the rooftop and sent Katagiri falling to his death. Godzilla turned and walked away, unleashing his atomic breath in a fiery swath across the city. As Godzilla rampaged through Tokyo, Miyasaka remarked that humanity created Godzilla, and ever since has tried to destroy him. Yuki Ichinose, a reporter, questioned why Godzilla kept protecting them despite this fact, with Shinoda answering it was because Godzilla was inside each one of them.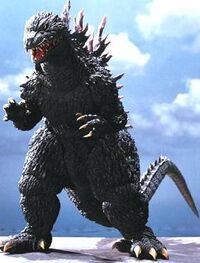 In
1954
, Godzilla raided
Tokyo
and reduced the city to a smoldering wasteland in one night. Afterward, Godzilla slipped back into
Tokyo Bay
and disappeared beneath the waves. The damage was so great that
Japan
's capital was moved to
Osaka
. Japan endured a decade of rebuilding, eventually embracing nuclear power and gradually putting Godzilla's attack behind them. But in
1966
, Godzilla returned and attacked the
Tokai Nuclear Power Plant
, feeding on the nuclear reactor. The Japanese government concluded that nuclear power was what attracted Godzilla, so all of the country's nuclear plants were shut down. Japan struggled to find alternate energy sources, but nothing proved able to replace nuclear power. In the 1990's, a breakthrough was made in the form of plasma energy. This clean, non-nuclear power source appeared to be the future of Japanese energy. But in
1996
, Godzilla was attracted to the plasma reactor in Osaka, deciding to feed on it in the absence of nuclear energy. A team of
J.S.D.F.
soldiers were deployed to stop Godzilla, but they were massacred. The lone survivor of the operation was Major
Kiriko Tsujimori
, who went on to become a founding member of the J.S.D.F.'s elite anti-Godzilla unit, the G-Graspers. By
2001
, plasma energy was banned in Japan, and the G-Graspers had developed the ultimate anti-Godzilla weapon, a miniature black hole gun called the
Dimension Tide
. The Dimension Tide was test-fired in the outskirts of Tokyo, where it completely absorbed an abandoned building. The G-Graspers were certain the Dimension Tide would do the same to Godzilla, and the weapon was mounted on a satellite while the G-Graspers searched for Godzilla. Godzilla was discovered in the waters off Japan, and the
GX-813 Griffon
was sent to lure him ashore at
Kiganjima
. The Dimension Tide was prepared and aimed at Godzilla, but suddenly a swarm of giant prehistoric dragonflies called
Meganula
flew overhead and attacked Godzilla, draining his energy with their tails. Godzilla killed most of the Meganula with his tail and atomic breath, and the Dimension Tide was fired at him. However, the weapon merely buried Godzilla under a pile of rubble, and he quickly got up. Godzilla waded out to sea and vanished.
Shortly afterward, Godzilla came ashore in Tokyo Bay, heading directly for the science institute. En route, he was attacked by Megaguirus, the Meganula queen which had been mutated by the energy her swarm drained from Godzilla. Megaguirus attacked Godzilla near the Tokyo Telecom Center, easily avoiding his attacks and landing several of her own due to her incredible speed. After managing to slice off Megaguirus' claw with his dorsal plates, Godzilla turned the tide of battle when he caught Megaguirus' tail and stuck it into the ground. Godzilla jumped into the air and body-slammed Megaguirus. Megaguirus flew at Godzilla, aiming her stinger at his head, but he caught it in his mouth and bit it off. Megaguirus reeled back in pain, as Godzilla fired his atomic breath directly at her, causing her to erupt in flames before crashing to the ground and exploding. His enemy defeated, Godzilla reached the science institute and uncovered a hidden plasma reactor. While Godzilla was distracted, the Dimension Tide was fired at him. However, the satellite fell out of the atmosphere and was approaching Tokyo. Tsujimori used the Griffon to allow the Dimension Tide to lock on Godzilla's location, then ejected as soon as the weapon fired. When the smoke cleared, Godzilla had disappeared without a trace. Godzilla appeared to be finally gone, and the nation of Japan rejoiced.
A few weeks later though, the G-Graspers began to detect a series of tremors underneath Tokyo, and contemplated the possibility that Godzilla was merely pushed underground by the Dimension Tide like before. These fears were confirmed when Godzilla emerged from underground in Tokyo, roaring menacingly.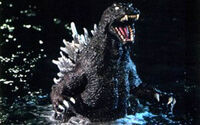 In
1954
,
Japan
suffered an attack from Godzilla. The monster laid waste to
Tokyo
, transforming the once-proud capital of Japan into ground zero of a nuclear disaster overnight. Godzilla was finally killed with an
experimental chemical weapon
, while the
weapon's inventor
took his own life to ensure it could never be used again. In order to avoid facing ridicule for failing to stop Godzilla and ensure the citizens of Japan they were safe from future attacks, the
J.S.D.F.
claimed credit for killing Godzilla. Over the next several decades, humanity gradually began to forget about Godzilla, with many assuming the creature never existed and was simply a legend. In
1998
, a
giant reptilian monster
attacked
New York City
, with American experts identifying the creature as Godzilla. The J.S.D.F. doubted that the monster was Godzilla, but could not ignore the appearance of another giant monster. In the years following the New York attack, sightings of giant monsters skyrocketed around the world, forcing the J.S.D.F. to be on high alert for the possible return of Godzilla. In
2002
, an
American
nuclear submarine vanished off the coast of Guam. The Japanese research submersible
Satsuma
investigated the wreckage, noticing huge claw marks in the sub's hull. Just then, the ground shook, causing the
Satsuma
's sister craft to crash into a rock. Just then, the vessel's pilot witnessed Godzilla's
dorsal plates
briefly appear behind several large rocks.
When the Satsuma operator's story was reported to the J.S.D.F., units were scrambled to search for Godzilla. The monster came ashore in the Bonin Islands, stomping on several houses during a storm. The J.S.D.F. searched the waters all around Japan, but could find no trace of Godzilla. Several of the soldiers began assuming Godzilla never really did exist, and search operations were called off. Not long after, Godzilla appeared from a harbor and came ashore in Japan once again. The beast destroyed a small town and marched through the countryside, eventually being attacked by the Guardian Monster Baragon, who had been awakened by the prophet Hirotoshi Isayama to stop Godzilla. Godzilla easily overpowered the smaller monster, and after a short fight obliterated Baragon with his atomic breath. Godzilla continued his march across Japan, as it became apparent that he was once again approaching Tokyo. Fighter jets were deployed to attack Godzilla, but their missiles had no effect and Godzilla easily shot the jets down with his atomic breath. Eventually, Godzilla reached Yokohama, where the J.S.D.F. had erected a last line of defense to prevent Godzilla from reaching Tokyo. Godzilla showed no mercy and easily annihilated the J.S.D.F.'s forces in the city, but was interrupted by the arrival of Mothra, a second Guardian Monster. Godzilla fired his atomic breath at Mothra, but she dodged it, causing the beam to hit the Yokohama Landmark Tower instead. As Godzilla was fighting Mothra, the third Guardian Monster, Ghidorah, arrived, and helped Mothra take on Godzilla. Godzilla proved to be more than a match for both beasts, knocking Mothra aside with his tail and tearing into Ghidorah's necks with his teeth before slamming him onto a building. Godzilla fired his atomic breath at the unconscious Ghidorah, intending to finish him once and for all, but Mothra flew in front of him and was blasted away by the beam. Godzilla then turned his attention to the J.S.D.F.'s battleships docked in the harbor, destroying several of them with his atomic breath. As Godzilla prepared to destroy the last few ships, Mothra flew up behind him, intending to take him by surprise. Suddenly, Godzilla turned around and fired his beam at Mothra, vaporizing her.
The battle was not over, as Mothra's energy showered onto Ghidorah, reviving him as the Thousand-Year-Old Dragon, King Ghidorah. King Ghidorah formed an energy shield and took to the air, screeching at Godzilla. Godzilla fired his atomic breath at King Ghidorah, but his shield deflected it. King Ghidorah dropped his shield onto Godzilla, causing a massive explosion that blasted Godzilla into the sea. King Ghidorah flew out over the water and attacked Godzilla again, while the
Satsuma
was deployed to fire a
D-03 Missile
into a wound on Godzilla's neck that King Ghidorah had opened. Godzilla grabbed King Ghidorah's legs and dragged him underwater, where the
Satsuma
fired its missile at Godzilla. Godzilla saw the missile and pulled King Ghidorah's neck in front of it, knocking the beast out once again. After swallowing the
Satsuma
, Godzilla surfaced, while King Ghidorah was reawakened by an ancient stone that fell into the water after
Yuri Tachibana
dropped it. King Ghidorah flew out of the water and blasted Godzilla with his gravity beams, electrocuting him. After taking several hits, Godzilla somehow absorbed the gravity beams into his dorsal plates, then combined them with his atomic breath in a powerful spiral-wrapped beam that obliterated King Ghidorah in a single hit. The combined spirits of the Guardian Monsters then flew into Godzilla, dragging him underwater. Inside of Godzilla, the
Satsuma
, piloted by
Taizo Tachibana
, fired a D-03 Missile into Godzilla's neck wound, which tore it open until it was a gaping hole. Godzilla surfaced and prepared to fire his atomic breath at Yuri and her friend, but the beam shot out of his neck wound instead. Godzilla tried to fire his atomic breath again, with the same result. Godzilla fell back underwater in agony, while the
Satsuma
escaped his body. Godzilla saw the
Satsuma
swimming away and charged his atomic breath again. This time, Godzilla's wound flashed brightly and he suddenly exploded. Godzilla completely vanished from all radar and tracking systems, and it appeared he was finally gone. As Japan celebrated, Godzilla's disembodied heart began continuously beating on the sea floor.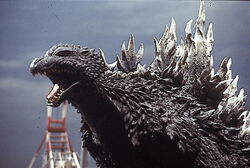 In
1954
, Godzilla appeared and laid waste to
Tokyo
before being killed by
Daisuke Serizawa
's
Oxygen Destroyer
. In the decades that followed,
Japan
was frequently attacked by giant monsters, including
Mothra
and
Gaira
. The Anti-Megalosaurus Force (AMF) was formed to combat these creatures, armed with advanced space-age weapons known as
Maser Cannons
. In
1999
, a second Godzilla suddenly came ashore at Tateyama during a typhoon. The AMF was deployed, with their new Type 90 Maser Cannons, to stop Godzilla's rampage. To the AMF's shock, Maser Cannons had no effect on Godzilla, and only served to further enrage him. Godzilla destroyed most of the Maser Cannons attacking him and roared victoriously into the air, with lightning striking his
dorsal plates
.
In the aftermath of the attack, the Japanese government was scrambling to find a new way to fight Godzilla. When the first Godzilla's intact skeleton was discovered off Boso Peninsula, it was decided to use it to construct a mechanical Godzilla to fight the new one. Recruiting the assistance of Japan's greatest scientific minds, the Japanese government began construction on the Godzilla robot. By 2003, four years after construction began, the weapon, codenamed Kiryu, was completed. Just after the mech was exhibited to the international community, Godzilla landed in Japan once again.
Kiryu was launched and confronted Godzilla near the coast. Kiryu launched its rockets and fired its oral Maser beams at Godzilla, causing him to step back. Kiryu prepared to fire its ultimate weapon, the Absolute Zero Cannon, but Godzilla roared and caused the first Godzilla's soul within Kiryu to awaken. Kiryu, believing itself to be Godzilla once again, went berserk, destroying the surrounding city with its payload of weapons. Godzilla retreated in the confusion, while the AMF raced to find a way to shut Kiryu down. Once Kiryu's power was depleted, the project was shelved indefinitely, with AMF and the government reduced to a laughingstock.
Meanwhile, Godzilla resurfaced in Tokyo Bay, demolishing the AMF forces attacking him and coming ashore. As Godzilla drew closer and closer to the city center, AMF and the Prime Minister had no choice but to launch Kiryu again, believing whatever caused it to run wild before had been repaired. As Godzilla approached a hospital and charged his atomic breath, Kiryu dropped from the sky and knocked Godzilla into a nearby building. Godzilla got up and attacked Kiryu. The monsters appeared equally matched as they pushed each other back and forth through the city. Kiryu stabbed Godzilla with its plasma sword and electrocuted him. Godzilla responded by kicking Kiryu into a building and stomping on it. Kiryu regained its footing and grabbed Godzilla's tail, swinging him in the air and tossing him across the city. Kiryu charged the Absolute Zero once again, but Godzilla fired his atomic breath and sent Kiryu hurdling through the sky, with the Absolute Zero beam hitting three skyscrapers instead.
When Kiryu hit the ground, it was rendered inoperable. The AMF distracted Godzilla while Kiryu's operator Akane Yashiro manually took control of the machine and got it back in working order. As Kiryu stood back up, Godzilla blasted it in the back with his atomic breath until it collapsed to the ground again. Kiryu stood up once more, as Godzilla charged his atomic breath. This time, an AC-3 White Heron flew into Godzilla's mouth, buying Kiryu time to fight back. Kiryu grabbed the jet's cockpit and tore it from Godzilla's mouth, then threw it to safety. Kiryu grabbed Godzilla and held his mouth shut as it took flight, charging the Absolute Zero.
Kiryu crashed into Tokyo Bay and fired the weapon, causing water to erupt out of the bay and freeze solid in the air. The ice shattered, and Godzilla rose from the water with a gaping wound in his chest. As Godzilla began wading out to sea, Kiryu surfaced as well, missing an arm and unable to move. Godzilla looked back at Kiryu and growled before continuing on his way back out to sea. While Kiryu failed to kill Godzilla, it did expel him, meaning humanity finally had a weapon to defend itself against Godzilla.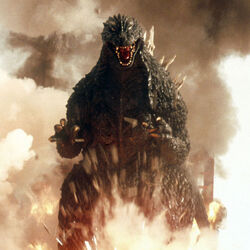 Just one year after Godzilla and
Kiryu
's epic battle,
Mothra
's
Shobijin
appeared to
Shinichi Chujo
and warned him that the first Godzilla's bones must be returned to their resting place in the sea, and that it was blasphemous to use them as a weapon. The Shobijin stated that Mothra would have to declare war on humanity if the bones were not returned, and that she did not want to do that. Chujo spoke to the Japanese Prime Minister
Hayato Igarashi
, who stated that too many resources had been sunk into the Kiryu project for it to be scrapped now. He expressed his hope that Kiryu would one day kill Godzilla, after which the project could finally be scrapped. Meanwhile, the corpse of
Kamoebas
, a giant sea turtle, washed up on a beach, with claw marks in its neck. The AMF declared it to be the work of Godzilla, and Kiryu's repairs were sped up to prepare for the monster's return. Soon, Godzilla arrived in
Tokyo
, and appeared to be heading for Kiryu's hangar.
Igarashi began to worry that Kiryu itself was what had been attracting Godzilla. Chujo's grandson Shun used school desks to recreate Mothra's sacred symbol, drawing her to Tokyo. Mothra attacked Godzilla, but in her old age was outmatched. Unwilling to let Mothra continue the fight alone, Igarashi ordered for Kiryu to be deployed. Kiryu arrived during Mothra and Godzilla's battle and attacked Godzilla after Mothra's wings had been destroyed by Godzilla's atomic breath. On Infant Island, Mothra's egg hatched into two twin larvae, which swam to Tokyo to assist their mother. Back in Tokyo, Godzilla used his atomic breath to blast off the side of Kiryu's face, knocking it out of commission. When Mothra's larvae arrived and began speaking with their mother, Godzilla fired his atomic breath at them. Mothra used the last of her strength to fly in front of the beam, causing her to be set ablaze and explode.
Determined to avenge their mother, the larvae attacked Godzilla while Yoshito Chujo, an AMF mechanic, attempted to repair Kiryu from inside. When Kiryu was repaired, it engaged Godzilla again near the National Diet Building. The Diet Building was destroyed in the monsters' confrontation, but Kiryu managed to stab Godzilla's chest wound from their previous battle with its drill hand. Kiryu rotated the drill, causing Godzilla immeasurable pain. Mothra's larvae covered the wounded Godzilla in silk until he fell over, too injured to continue fighting. AMF ordered Kiryu to finish Godzilla, but Godzilla's pained cries reawakened the first Godzilla's spirit inside Kiryu. Unwilling to kill a member of his kind, Kiryu simply grabbed Godzilla and flew out to sea, sinking himself along with Godzilla in the Japan Trench.
Igarashi declared the battle to be a hollow victory, and ordered the Kiryu project officially scrapped. However, AMF was secretly holding the DNA of several monsters in a lab, including Godzilla, to construct more weapons to defend against future monster attacks, possibly Godzilla again should he break free from Kiryu's grip.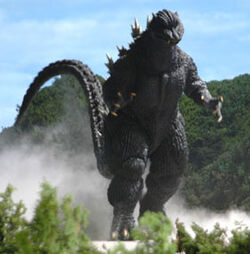 In
1954
, nuclear testing awakened the monster Godzilla, the most powerful enemy mankind ever faced. The international military organization known as the
Earth Defense Force
(EDF) was formed to combat Godzilla and other giant monsters that appeared over the next decade, but it could never defeat Godzilla. Sometime in the 1960's, the EDF lured Godzilla to
Antarctica
for a final showdown. Godzilla easily defeated the EDF's
Maser Cannons
it had stationed there, but found himself under attack by the advanced warship the
Gotengo
. Godzilla shot down the Gotengo with his atomic breath, but before he could finish it he fell into a crack in the ice. Young Gotengo crewmember
Douglas Gordon
fired a missile at a nearby slope, causing Godzilla to be buried under tons of ice. The facility known as
Area G
was constructed around Godzilla's icy prison, and the monster remained trapped for decades to come.
In the year 20XX, an alien force known as the Xiliens had invaded Earth and taken control of all of the planet's monsters, using them to destroy major cities around the globe. The Gotengo, piloted by Gordon and staffed with all of the EDF's remaining forces, flew to Area G and used its missiles to free Godzilla, believing him the only force capable of defeating the Xiliens' monster army. Godzilla emerged from his icy prison, and was immediately attacked by the Xiliens' cyborg monster Gigan. Gigan wrapped Godzilla in barbed wire, but Godzilla blasted the monster's head off with his atomic breath. Believing his battle with the Gotengo from decades ago was still going on, Godzilla chased the ship to Australia. In Sydney, Godzilla found himself attacked by the monster Zilla, which lunged at him. Godzilla used his tail to smack Zilla into the Sydney Opera House, then finished his opponent with a blast of atomic breath.
Godzilla then traveled to New Guinea, where he fought Kumonga. Godzilla grabbed a thread of Kumonga's web and tossed the giant spider over the horizon before continuing on his way. After reaching the Kanto region of Japan, Godzilla encountered Kamacuras. Godzilla fired his atomic breath at the monster, which dodged the beam and flew at him. Godzilla simply grabbed Kamacuras and threw it at an electrical tower, which impaled and killed it. As Godzilla marched further inland he reached Mount Fuji, where the Xiliens deployed Anguirus, Rodan and King Caesar against him. Godzilla proved to be more than a match for the three opponents, and defeated them one-by-one, stacking their unconscious bodies on top of each other. Godzilla reached Tokyo Bay, where he was attacked by Hedorah and Ebirah. Godzilla tossed both monsters out of the bay with his atomic breath, causing Ebirah's claw to impale Hedorah's eye. With both monster immobilized, Godzilla fired his atomic breath at them and destroyed them both.
After finally reaching Tokyo, Godzilla saw the asteroid Gorath hurdling toward the city. Godzilla planted his feet and fired his atomic breath at Gorath, causing the asteroid to explode in the skies over Tokyo, reducing the city to a crater. As Godzilla stood in the ruins of Tokyo, Monster X levitated to the ground behind him. Godzilla attacked this new monster, but found it was more than a match for him, fighting with incredible speed and ferocity. Mothra flew to Tokyo to assist Godzilla, but was intercepted by the repaired and modified Gigan. Gigan sliced Mothra's wing with his chainsaw hand, then began to help Monster X fight Godzilla. Monster X held Godzilla from behind while Gigan sliced his chest with his chainsaws. Godzilla moved out of the way and caused Gigan to strike Monster X instead, causing him to release him. Mothra then flew by and knocked both Monster X and Gigan to the ground. Gigan pursued Mothra again, but was killed when his razor discs accidentally sliced his head off and Mothra flew into him and exploded. Godzilla and Monster X resumed their one-on-one battle, with Godzilla finally gaining the upper hand. Godzilla pinned Monster X to the ground and pummeled him mercilessly. When the Xilien Mothership self-destructed, Godzilla and Monster X fired their beams at each other, which locked in the air. The beams exploded, knocking the monsters to opposite sides of the city.
Suddenly, Monster X transformed into Keizer Ghidorah, which was much larger and more powerful than Godzilla. Godzilla fired his atomic breath at Keizer Ghidorah, but the creature's gravity beams overpowered Godzilla's beam. Keizer Ghidorah used its telekinetic gravity beams to toss Godzilla across the ruined cityscape, then began to kick the fallen Godzilla in the head repeatedly. Finally, Keizer Ghidorah grabbed Godzilla with hits mouths and began draining his energy. When the Gotengo flew past the monsters, its crewmembers realized they needed to help Godzilla. Shinichi Ozaki used the ship's Maser Cannon to fire his Keizer energy into Godzilla's dorsal plates, reinvigorating him. Godzilla released a shockwave that forced Keizer Ghidorah to release him, then destroyed the beast's middle head with his atomic breath. When another head tried to fire a gravity beam at Godzilla, Godzilla pulled the other head in front of the beam, severing it. Godzilla grabbed the maimed Keizer Ghidorah by its remaining head and slammed it up and down before throwing the monster into the air. Godzilla fired his spiral red heat beam at Keizer Ghidorah, pushing it into outer space, where it exploded.
As the Keizer energy wore off, Godzilla shot down the Gotengo with his atomic breath. As the ship's crew exited and aimed their weapons at Godzilla, Minilla suddenly ran into the city. Minilla stood in front of Godzilla, holding out his arms and blocking him from attacking the humans. Godzilla finally forgave humanity and turned around and walked out to the sea. Minilla followed after Godzilla, but not before firing a blast of atomic breath into the air. As Godzilla and Minilla waded out into the sunset, Godzilla turned and roared out one last time.
Abilities
Amphibiousness
Though technically a reptile and not an amphibian, Godzilla has an amphibious lifestyle. He spends half of his life in water and the other on land. He is as adept a fighter underwater as he is on land. Capable of marching on the sea floor or swimming by undulating his tail like a crocodile, Godzilla is displayed as being able to breathe underwater.
Atomic breath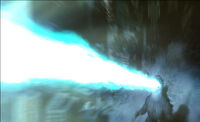 In
Godzilla 2000: Millennium
and
Godzilla vs. Megaguirus
, Godzilla's atomic breath was shown as having incendiary properties and was strong enough to destroy a miniature black hole, while in
Godzilla: Final Wars
, it possessed incredible range, amazing power and pin-point accuracy, able to hit and destroy a target in outer space and kill or disable most
kaiju
with a single shot.
In Godzilla: Final Wars during Godzilla's battle against Keizer Ghidorah, Godzilla once again showed the ability to change the intensity of his atomic breath at will. With a quick turn, Godzilla's breath went from the iconic blue beam to the red spiral heat ray, which literally caused the monster Keizer Ghidorah to explode in the upper atmosphere.
Durability
Godzilla possesses an extremely advanced and highly efficient regenerative ability. In Godzilla 2000: Millennium, it is explained that Godzilla's regenerative abilities may have something to do with his radioactive properties, and Organizer G-1 ("Regenerator G-1" in the American version) is the name given to a substance in his cells that is responsible for Godzilla's swift healing. In the case of Orga, its healing factor appears to even exceed Godzilla's own in terms of speed and effectiveness.
Energy absorption and projection
In the absence of nuclear power in Godzilla vs. Megaguirus, Godzilla seeks out and feeds on plasma energy instead.
Godzilla absorbs King Ghidorah's gravity beams in Godzilla, Mothra and King Ghidorah: Giant Monsters All-Out Attack and combines them with his atomic breath, forming a more powerful atomic beam that obliterates King Ghidorah in a single hit.
In Godzilla Against Mechagodzilla, lightning is shown striking Godzilla's dorsal plates, causing them to glow.
In Godzilla: Final Wars, Godzilla absorbs Shinichi Ozaki's Keizer energy, empowering him and allowing him to easily defeat Keizer Ghidorah.
Intelligence
An example of Godzilla's intelligence was displayed in Godzilla 2000: Millennium when he was facing Orga. When Orga kept regenerating himself in a fast pace, Godzilla decided to go after Orga's core and used a nuclear pulse to destroy it, thus exploiting that weakness and ultimately defeating Orga.
Nuclear pulse
Many consider the climactic scene in Godzilla 2000: Millennium to be a use of Godzilla's nuclear pulse, and in the climax of Godzilla: Final Wars, Godzilla uses something similar to a nuclear pulse to prevent Keizer Ghidorah from draining any more of his energy from him after being surged with Ozaki's energy.
Physical abilities
In Godzilla: Final Wars was even able to throw Kumonga clear over the horizon through sheer strength alone.
Godzilla's long tail is also a formidable weapon. It has been shown to be very flexible and powerful, able to lash out quickly and topple over buildings and enemy monsters. In Godzilla vs. Megaguirus, it was revealed to be prehensile as well.
Rarely, Godzilla also showed the ability to use his dorsal plates as a weapon, such as in Godzilla vs. Megaguirus, when he uses their jagged tips to slice off Megaguirus' claw. In addition, in Godzilla 2000: Millennium and Godzilla vs. Megaguirus, the dorsal plates create a tremendous amount of heat when the atomic ray is being prepared.
Spiral heat ray
In Godzilla, Mothra and King Ghidorah: Giant Monsters All-Out Attack, a variant of Godzilla's spiral breath was seen when King Ghidorah used his golden gravity beams on Godzilla. Godzilla was somehow able to draw strength from the gravity beams and used the absorbed energy to fire a blast of blue energy wrapped in a golden spiral that completely destroyed King Ghidorah.
Like Godzilla's original spiral breath in Godzilla vs. King Ghidorah, this beam is blue in color like Godzilla's standard atomic breath and his dorsal plates become surrounded in electricity before firing it. The red spiral ray returned in Godzilla: Final Wars, where it was strong enough to push Keizer Ghidorah to the edge of space, destroying him in an explosion visible from the surface of the Earth.
Weaknesses
Internal damage
To an even lesser extent, in Godzilla, Mothra and King Ghidorah: Giant Monsters All-Out Attack, Godzilla was eventually defeated after a D-03 Missile was fired by the Satsuma from inside Godzilla's body. This opened a large wound on the side of Godzilla's neck that had earlier been inflicted by King Ghidorah, and when Godzilla attempted to fire his atomic breath, it shot out of the wound.
Godzilla continued to attempt to fire his atomic breath, eventually causing him to explode and be reduced to just his heart. The D-03 Missile only seemed to be effective against Godzilla when fired from inside his body, as Godzilla had been bombarded by multiple D-03 Missiles earlier and was not visibly injured at all.
Subzero temperatures
In Godzilla: Final Wars, Godzilla was sealed under ice in Antarctica for several decades. In each of these scenarios, ice has proven an effective way to trap Godzilla and cause him to go dormant temporarily, although Godzilla has never suffered any visible physical harm from being frozen.
Anti-Godzilla weaponry
A third version of Mechagodzilla, Kiryu, appeared in Godzilla Against Mechagodzilla. This time, the mecha was built around the skeleton of the original Godzilla from 1954. However, DNA in the bones caused Kiryu to remember that it was once Godzilla and it went on a rampage.
Once the JSDF was able to get Kiryu under control, it forced Godzilla to retreat. Godzilla and Kiryu would meet again in Godzilla: Tokyo S.O.S., but this time, Mothra would intervene. Mothra demanded that Godzilla's bones (inside Kiryu) be returned to their grave. The JSDF agreed, but only after Godzilla was defeated.
Ultimately, Kiryu made the final decision and returned to the sea on its own will, carrying Godzilla with him and plummeting into the ocean.
In Godzilla, Mothra and King Ghidorah: Giant Monsters All-Out Attack, Godzilla was killed by the device, but his body remained to be possessed by the restless dead of the Pacific War, unlike the original, in which he was completely disintegrated.
In Godzilla Against Mechagodzilla, Godzilla was reduced to a skeleton by the Oxygen Destroyer, but his soul remained attached to his remains while living nervous cells survived within his spinal column.
Video games
Every Godzilla design from the Millennium series made an appearance within the mobile title: Godzilla: Kaiju Collection.
In the Wii version of the game, Godzilla 2000 is the only incarnation that can be played in story mode. Godzilla 1954 and Godzilla 1990's are only playable in Brawl mode, although Godzilla 1990's is playable in story mode in the PlayStation 2 version of the game.
"
The Godzilla of 1999 and beyond evolved to have a tougher appearance and rough dorsal plates. It frequently attacks Japan like a natural disaster, inflicting great damage upon the human race.

In the more recent Millennium Series, the Godzilla universe was reset once again, with each work separately situated as a continuation of the 1954 film. The "Millennium" version of Godzilla was the second version of Godzilla after 1954, this time attacking metropolitan cities and power plants as if it loathed the human race and its advanced science. The "Godzilla vs. Megaguirus" film had Godzilla survive the end of the 1954 movie and return to attack Japan three times. The film "Godzilla, Mothra and King Ghidorah: Giant Monsters All-Out Attack" took place after 1954 and concentrated on the deep-seated resentment of the victims of the Pacific War. The Godzilla in "Godzilla Against Mechagodzilla" and "Godzilla: Tokyo S.O.S." was the same Godzilla as in the 1954 film. In the "Godzilla: Final Wars" version, he appeared after Earth's environment was destroyed, having been sealed up in the South Pole by the submarine battleship Gotengo 50 years earlier.

Though camera and costuming techniques have vastly improved over the 60-year history of Godzilla, and special effects now incorporate the latest computer-generated visuals, the character design always starts with the foundation established in the original 1954 film version.
" 

— Millennium Godzilla's Kaiju Guide bio
List of appearances
Films
Video games
References
This is a list of references for Godzilla (Millennium). These citations are used to identify the reliable sources on which this article is based. These references appear inside articles in the form of superscript numbers, which look like this: [1]
Ad blocker interference detected!
Wikia is a free-to-use site that makes money from advertising. We have a modified experience for viewers using ad blockers

Wikia is not accessible if you've made further modifications. Remove the custom ad blocker rule(s) and the page will load as expected.