Godzilla (IDW)
Comments

0
1,182pages on
this wiki
Godzilla
is a
kaiju
that appears in IDW Publishing's
Godzilla: Monster World
,
Godzilla: Kingdom of Monsters
,
Gangsters and Goliaths
and
Godzilla: Legends
comics series. The character is based on Toho's Godzilla character but is not related in any way to his earlier incarnations.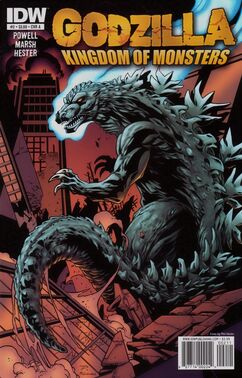 Physical Characteristics
Height: 100 meters (presumed)
Weight:59,000 tons (presumed)
Powers/Abilities
Like the original Toho character, this incarnation of Godzilla has his signature atomic ray.
However, Godzilla's durability in this series may even surpass that of the original Toho Godzilla, seeing as it was able to withstand a point-blank nuclear explosion with no apparent injury at all.
See Also: