Godzilla (2014 film)
Comments

178
1,167articles on
Wikizilla
Directed by

Produced by

Written by

Music by

Distributed by

Released In

Budget

Gross

Rating

Running Time

Unknown
(? hours, ?? minutes)

Designs Used
---
Godzilla (ゴジラ?, Gojira) is an upcoming 2014 American science-fiction film based on the Japanese film series of the same name. It is set to be released on May 16, 2014 in 2D and 3D, and distributed worldwide by Warner Bros., with the exception of Japan, where the film will be distributed by Toho Company Ltd.
The film was also made into a novel titled Godzilla: The Official Novelization by Greg Cox, which is to be released on May 20, 2014.
Plot
Frank Darabont, the screenwriter, described his plans for Godzilla as returning it to a "terrifying force of nature" in interviews. The film will add a "very compelling human drama" and that Godzilla would be tied to a "different contemporary issue" rather than the original atomic bomb testing. Director Gareth Edwards, at a promotional appearance in 2012, described the tone of the film. "We're just going to take it really seriously. I've wanted to see this movie this way all my life. Imagine if this really happened – as crazy as it sounds – what would it really be like?" In January 2013, it was reported that Warner Brothers, in a meeting for advertisers, revealed that the film would contain two new monsters in addition to Godzilla, and the plot of the film would revolve around the story of a young U.S. Marine. David Goyer, who is also a screenwriter, stated that there were two other monsters in the script when he worked on it. Elizabeth Olsen described the film as "definitely not lighthearted. It's kind of going back to its roots of the original Japanese film" and that "there's a strong theme of the importance of family, as well as the theme of trying to control nature, and how that backfires in the end".[4] Cranston says that he plays a scientist called Joe Brody that "discovers an anomaly in some sonar, signalings, patterns, and is just starting an investigation when all hell breaks loose".[4]
In an interview with Collider.com, Gareth Edwards said that the U.S. government knew about Godzilla for some time, and that the nuclear tests that they did were actually attempts to kill Godzilla.[5]
Gallery
Main Article:

Gallery:Godzilla (2014 film).
Staff
Staff role on the left, staff member's name on the right.
Cast
Actor's name on the left, character played on the right.
Aaron Taylor-Johnson   as   Lieutenant Ford Brody
Sally Hawkins   as   Vivienne Graham
David Strathairn   as   Admiral Stenz
CJ Adams   as   Ford's stepbrother
Akira Takarada   as   ???
Richard T. Jones   as   "The Colonel"
Victor Rasuk   as   Major Tre Morales
Jake Cunanan   as   Akio
Yuki Morita   as   Akio's mother
Warren Takeuchi   as   Akio's father
Jared Keeso   as   "Jump Master"
Patrick Sabongui   as   Master Sergeant Marcus Waltz
Al Sapienza   as   Huddleston
Brian Markinson   as   Whalen
Production
The film was first announced at Comic-Con 2010 where an early concept art impression for the new Godzilla was revealed. Gareth Edwards, director of the movie Monsters has been announced as the director. Mr. Edwards has stated he knows the importance of getting the film right for the fans. Some Godzilla fans dislike the choice of director while others are okay with it because he is a fan of the Godzilla series. In October 2010, David Callaham was named to write the first draft of the script. After Callaham, four more persons worked on the screenplay during the film's development. David Goyer (the story writer for "The Dark Knight") has been announced as a writer for the movie. Many fans were excited about the this choice as they say David Goyer (along with Christopher Nolan) brought justice for the Batman movies using dark themes. However, Goyer only worked a few weeks on the script and did not get a screenwriter credit. In November 2011, Max Borenstein was hired to continue work on the script. In October 2012, Legendary announced that writer Drew Pearce would polish the final script, making the principal characters older to suit the actors that Legendary intends to cast.In January 2013, Frank Darabont (writer-director of The Shawshank Redemption and The Walking Dead), was officially added to work on the film script.
In 2007, film producer Brian Rogers met former Toho company director Yoshimitsu Banno who had the rights to make an IMAX 3D Godzilla film. Rogers then met Toho to arrange a license to produce a 3D Godzilla film. After securing the rights, Rogers approached several film companies and Legendary Pictures agreed to work with Rogers on the project. In August 2009, rumors surfaced that Legendary were in talks with Toho to produce a new American Godzilla film to be released in 2012.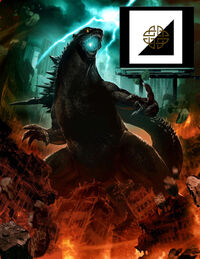 On March 29, 2010, it was confirmed that Legendary had acquired the rights to Godzilla. They plan to reboot the franchise with Warner Bros. co-producing and co-financing. TriStar will not be involved in the production because their rights to the character expired in 2003. Legendary plans to make the new film closer in style to the original Japanese character than TriStar's iguana-like creature. According to Thomas Tull, chairman and CEO of Legendary Pictures, "Our plans are to produce the Godzilla that we, as fans, would want to see. We intend to do justice to those essential elements that have allowed this character to remain as pop culturally relevant for as long as it has".

At the 3D Summit conference held in September 2010 at Universal Studios, producer Brian Rogers confirmed the planned date of 2012. The reboot will be a live-action project featuring a computer-generated Godzilla. Godzilla will fight at least one other monster, rather than the United States Army like in Roland Emmerich's film. It was also mentioned that Godzilla will use his atomic breath, a trademark weapon omitted by Emmerich and co-writer/producer Dean Devlin in the previous American film in favor of power breath.
Development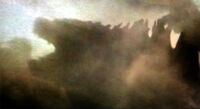 During Comic-con 2012, director Gareth Edwards participated in a Godzilla panel, in which they screened a new teaser trailer, described as so, a destroyed city is seen, as Robert Oppenheimer's speech comes in, "I am become death, destroyer of worlds" as a huge dead centipede type creature is smoldering, and finally, a roar is heard, and the camera cuts to Godzilla, true to his Japanese origins, roaring. This same trailer was leaked a year later.[6]

As of September 13, 2012, the movie's release date has been announced. The movie will be released on May 16, 2014.

On October 3, 2012, the movie is set to be in production on March 2013 in Vancouver. Also, Drew Pearce, the screenwriter of Iron Man 3, has been hired to do some rewrites to the script.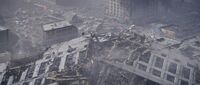 On December 18, 2012, a screenshot of, what appears to be, the Godzilla trailer was posted on the Tumblr of Jordane Menard, the modeler concept and texture artist for the film. Menard has said "I'm Working on the Trailer of the next Godzilla here at MPC London as Modeler and Texture Artist. I've worked on the foreground on the building and the characters." Also, Drew Pearce was asked, on his Twitter, if there's going to be some scenes where Godzilla breathes fire, destroys buildings, taking out the military, done right and will be nothing like the 1998 film and his response was "There's a lot of of it in the current trailer... but new stuff coming very soon..."

Announced on March 13, 2013, the film has started production and filming on Vancouver Island.[7] Also, Jim Rygiel, visual effects supervisor of The Lord of the Rings: The Fellowship of the Ring, has been hired to do the special effects for this film.

On March 18, 2013, Warner Bros. Pictures and Legendary Pictures announced the final principal cast for the film, Aaron Taylor-Johnson, Ken Watanabe, Elizabeth Olsen, Juliette Binoche, David Strathairn and Bryan Cranston. Also, the film will be distributed worldwide by Warner Brothers while Toho will be distributing it in Japan, and the film will be in 3D.[8]

On March 19, 2013, Gareth Edwards has announced that they've finished filming the first scene.[9] Also, reports of a burning helicopter and a nuclear missile being transported by a train have been cited at Nanaimo, Vancouver Island, all of this is rumored to be in the movie.[10]

On March 21, 2013, Richard T. Jones joins the cast of the movie.[11]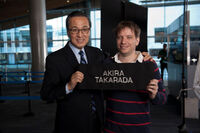 On March 28, 2013, Akira Takarada, who starred in previous Godzilla films, joins the cast of the movie.[12]

On April 5, 2013, Sally Hawkins joins the cast of the movie.[13]

On April 17th, 2013, Brian Markinson joins the cast of the movie.[14]

On April 20th, 2013, Yuki Morita joins the cast of the movie.[15]

On April 23rd, 2013, it has been revealed that Godzilla will continue filming for two months in Hawaii.[16]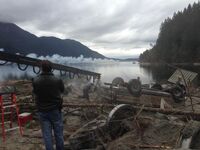 On April 25th, 2013, Legendary posted a picture in their wall showing a path of destruction Godzilla has left behind.[17]



On May 2nd, 2013, Legendary posted a picture in their wall showing what seems to be a power plant. [18]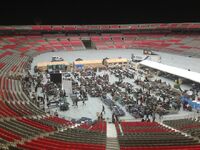 On May 16th, 2013, a new photo about people being hospitalized in the FEMA stadium popped up and was confirmed by Gareth Edwards appearing in it in an update.[19]


On May 18, 2013, Legendary posted a new picture in their Twitter.[20] Other sources, like Lainey Gossip, PUNKD Images, Spoilertv, Clayton Perry Photography, and VancityFilming have put up additional pictures and videos.[21]
On May 22, 2013, Legendary uploaded a new photo to their Facebook page[22]. It shows top secret documents that do not reveal much, but it also reveals a map of Maintop and Maintop Bay (Farallon Islands), which used to have nuclear waste dumped into them in real life.[23]


On May 24, Legendary was filming a scene with what seems like a ship set.[24]

On June 6, 2013, Legendary uploaded a new photo to their Facebook page.[25]


On June 10, 2013, many pictures appeared on comicbookmovie.com surrounding the filming of the film.[26]

On June 6, 2013, many pictures featuring Aaron Taylor-Johnson and Bryan Cranston were uploaded in m.justjared.com.[27]

On June 17, 2013, Variety.com released an article that says that 'Godzilla' will have action figures, with Bandai America Incorporated as the film's master toy partner.[28]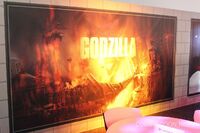 On June 18, 2013, Comingsoon.net released pictures of posters from Licensing Expo 2013, including Jurassic Park 4, Ninja Turtles, and Godzilla.[29]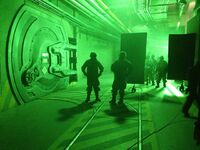 On June 19, 2013, Legendary posted a new photo on their Facebook showing a closed radioactive containment door.[30]

On June 22, 2013, yvrshoots.com released pictures of Elizabeth Olsen on set.[31]
On Saturday, July 20, 2013, sometime from 10:45 to 1:15 at Comic-Con, Legendary and Warner Bros. showed a preview for the film.[32]
| | | |
| --- | --- | --- |
| " | An epic rebirth to Toho's iconic Godzilla, this spectacular adventure pits the world's most famous monster against malevolent creatures who, bolstered by humanity's scientific arrogance, threaten our very existence. | " |
| | — Warner Brothers' description for the film at Comic-Con 2013[32] | |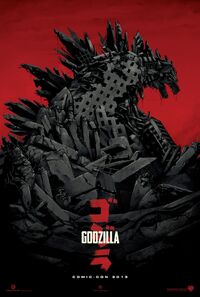 On July 15, 2013, IGN.com released a teaser poster for the Legendary Godzilla.[33]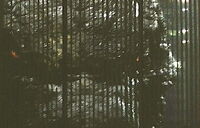 On July 17, 2013, Deadline.com spotted and released an image of Godzilla from the Godzilla Encounter at SDCC 2013.[34]


On July 17, 2013, Collider.com posted around 75 pictures of what was inside Legendary's Godzilla Encounter museum.[35] Between the many pictures, two concept designs of the Legendary Godzilla can be seen.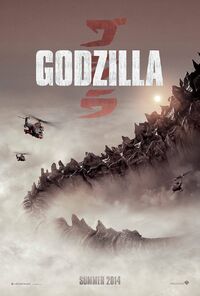 Again on July 17, 2013, the Official Legendary Godzilla Facebook page released the third official poster for the film which reveals Godzilla's tail.[36]

On July 19, 2013, ShockTillYouDrop.com interviewed Gareth Edwards.[37] They found out the following facts:
The last day of filming was July 18, 2013.
Godzilla will be a force of nature, not an antagonist or a hero, but an anti-hero. "He's the punishment we deserve".
The theme is man versus nature, and Godzilla "is definitely on the nature side".
There's a nuclear element in the movie, and the film will be "as realistic as possible".
Toho was very involved in designing Godzilla. Edwards said "they feel we've stayed true to their roots. In the encyclopedias and books you read about Godzilla, there's these different groups - all of the Godzillas in one section and then there's the American film. I'd love ours to be considered as part of the Toho group."
On Comic-Con July 20, 2013, in an interview with IGN[38] Edwards has confirmed that this will be the tallest Godzilla ever.

On Comic-Con July 20, 2013, another trailer was shown. Comicbooknews.com posted what happened in it:[39]

"Starts off by showing a beach with atomic testing and mushroom cloud with ash falling from the sky with the Godzilla movie logo then shown. Now the footage that was shown at least year's Comic-Con is revealed, described as a "mood piece" (i.e. get the crowd excited). The footage of the destroyed city is shown with Oppenheimer's famous quote, "We knew the world would not be the same. Some people cried. Most people were silent." Gareth Edwards then steps on to the stage followed by Elizabeth Olsen, Aaron Taylor-Johnson and Bryan Cranston. Elizabeth Olsen says she plays a mother and a nurse in Godzilla. Cranston is next kidding that he is the old guy in the film, but loved the movie monster as a kid. Says he was nervous at first about being part of such an iconic character and film. Edwards then mentions that the human characters in the film are close to Godzilla, and then tells a funny story about getting stopped at the Canadian Border with Customs telling him not to F' up the movie when they realized who he was.

Soldiers are shown running through streets and a flooded city. Cranston's character takes off his radiation suit; Olsen is shown crying. The military is then show with paratroopers and soldiers loading missiles. The shot continues, revealing a massive, skinny, four-legged monster. It seemed to have smaller arms on its chest and looked as if it had wings as well.

The next shot is from inside the airport terminal and through the glass walls, we see a plane crashing in a ball of fire right in front of the structure as the monster approaches in the background. Godzilla's foot lands in view as well.

Next shot is the most clear yet from the front as we see the beast seemingly opening its wingspan as Godzilla – clearly several times larger than the aggressor – rises from behind it, roaring, as if it's going to destroy the creature to protect the land. It cuts to the Godzilla logo. Godzilla's face was not shown."

Godzilla Encounter.[40]

On July 25, in an interview posted on io9.com, Gareth explains some of the symbolism behind the movie.[41]

[42]


On Wednesday, September 18, 2013, Omelete Entervista uploaded a video to YouTube that revealed about Bryan Cranston's character, called Joseph Brody, as well as Olsen's character and Aaron Taylor-Johnson's characters, named Elle Brody and Ford Brody, respectively. Cranston also said "We think you'll be able to wipe the memory of the old Godzilla 12 years ago or whatever that was, completely out of your system. This Godzilla is very different. Very much a character-driven monster movie, if that makes sense. To combine those types of elements of filmmaking together, and I say 'Why not? It's long overdue'. Instead of just having a monster, if you invest in these characters, and feel for them, care for them, you're going to appreciate and have a better experience when the monster arrives, than when you're like 'Oh it's a person, I don't know who it is that was just crushed, oh okay whatever.', and that's what this Godzilla 2014 does."[4]

On Friday, October 4, 2013, the first teaser trailer for Godzilla was finally leaked. It appears to be the first Comic-Con trailer.[6]

On Tuesday, October 8, 2013, a second trailer for Godzilla was leaked.[43]

On November 11, 2013, Moviepilot.com posted an interview with Gareth Edwards, Aaron Taylor-Johnson, Elizabeth Olsen, and Bryan Cranston.[44]

On Thursday, November 21, 2013, a full body image of the American Godzilla was leaked on an Amazon.ca page for the paperback Godzilla: With Light and Sounds!.[45]


On December 8, 2013, the film's viral marketing campaign finally started with the M.U.T.O. Research website being launched.

On Monday, December 9, 2013, USAToday posted a few pictures from the trailer and two other pictures from the movie.[46]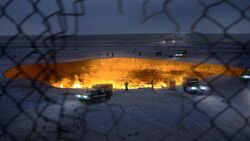 On Monday, December 9, 2013, TotalFilm posted a picture which is part of the viral marketing campaign showing Turkmenistan's infamous burning "Door to Hell", which might have something to do with M.U.T.O.[47]



Marketing
Visitors to the 2010 San Diego Comic-Con received a t-shirt with an image of the new Godzilla design. The image is credited to comics and manga publisher UDON Entertainment. Gonzalo Ordóñez Arias worked with Legendary and Toho for the painting. Visitors to the Legendary Pictures booth at the convention could view an animation of the new Godzilla breathing his atomic breath superimposed over their image captured via a webcam. The augmented reality promotion was designed by Talking Dog Studios of Saskatchewan, Canada.
In the summer, Legendary opened the Godzilla Encounter, a museum where Godzilla stuff can be seen, in summer. They also released a Godzilla Encounter application for iOS, and opened a Godzilla Encounter website.
On December 8, 2013, the film's viral marketing campaign started with the release of the M.U.T.O. Research website.
On Tuesday, December 10, 2013, Legendary finally released the official teaser trailer as well as a new poster and a new official site.[48]
| | | |
| --- | --- | --- |
| " | Gentlemen, you are being sent in by a halo jump. I realize that not all of you have had hands-on experience... Frankly, none of us have ever faced such a situation quite like this one before. I would not be asking any one of you to take this leap if I did not have complete faith in your ability to succeed. Your courage will never be more needed than it is today." | " |
| | — Unknown General (Godzilla Trailer) | |
On December 11, the Japanese version of the Godzilla trailer was released and the Japanese Godzilla movie site was launched. The trailer was mostly the same, although it contains two brief new shots. TV spots have also started appearing in Japan.
Toho has been making several promotional images for the film in Japan.
On January 15, 2014, ET Canada took a look behind the scenes of the film with Bryan Cranston.[49]
On January 2014's issue of Total Film, a few details of the film were revealed, such as Godzilla's height, the film's budget, and what fighting style Godzilla's was inspired by.
On February 25, 2014, Legendary released the main trailer for the film.
On February 27, 2014, Snickers made a commercial to promote the film.
On March 17, Godzilla: Smash3 was revealed and the Godzilla 2014 toy embargo was lifted.
On March 18, 2014, Warner Bros. released the international trailer for the film. This trailer was mostly the same as the main trailer, but contained several new scenes and dialogue.
On April 1, 2014, Legendary Pictures released the first TV spot for the film.
On April 2, 2014, Legendary Pictures released the second TV spot for the film.
On April 3, 2014, Legendary Pictures released the third TV spot for the film.
On April 4, 2014, Legendary Pictures released the fourth TV spot for the film.
On April 5, 2014, Legendary Pictures released an extended look at the film.
On April 18, 2014, Legendary Pictures released the fifth TV spot for the film.
On April 20, 2014, footage of Godzilla was shown at WonderCon Anaheim.
On April 21, 2014, advance tickets for Godzilla began being on sale.
Music
Main Article:

Godzilla: Original Motion Picture Soundtrack.
Godzilla's soundtrack, released as "Godzilla: Original Motion Picture Soundtrack", was composed by Alexandre Desplat. The soundtrack contains 20 tracks.
Godzilla!
Inside The Mines
The Power Plant
To Q Zone
Back to Janjira
Muto Hatch
In The Jungle
The Wave
Airport Attack
Missing Spore
Vegas Aftermath
Ford Rescued
Following Godzilla
Golden Gate Chaos
Let Them Fight
Entering The Nest
Two Against One
Last Shot
Godzilla's Victory
Back To The Ocean
Theatrical Releases
Here are all the countries this film will be released in:
Sequel
Gareth Edwards stated that he wanted Godzilla to work as a standalone film with a definitive ending, and opposed suggestions that the ending should leave the film open for a sequel. While Edwards wasn't against the possibility of future sequels, his main concern was delivering a satisfying experience with the current film; "I want a story that begins and ends, and you leave on a high. That's all we cared about when we were making this; just this film. If this film is good, the others can come, but let's just pay attention to this and not get sidetracked by other things."[50]
In an interview with Gareth Edwards said that if the film were to have a sequel that he would like to do a Destroy All Monsters-like film.[51]
Videos
Trailers
TV Spots
Production
Other
Trivia
This will be the first time Akira Takarada appears in a non-Japanese Godzilla film.
Most of the producers for this film were also involved with Pacific Rim.
External Links
References
This is a list of references for Godzilla (2014 film). These citations are used to identify the reliable sources on which this article is based. These references appear inside articles in the form of superscript numbers, which look like this: [1]