Godzilla: Domination!
Comments

0
1,178pages on
this wiki
Godzilla: Domination!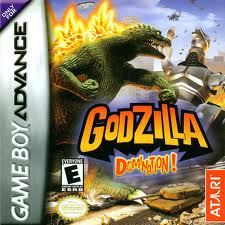 is a video game developed by WayForward Technologies for the Game Boy Advance. It's US publisher was Infogrames (Atari). It was released in 2002.
Story
Meteor X
appears over Tokyo 2 and starts projecting magnetic waves which causes neurological damage to several monsters, causing them to go berserk. The monsters begin to attack Earth and its neighboring planets (led by Mecha-King Ghidorah), however, one monster remains unaffected by the waves and it's up to it to stop the others and destroy Meteor X.
Specifics
1-4 players can play simultaneously Offers "single pak", only one of the four people have to have the game Play as 6 different Kaiju 7 arenas to play in: Tokyo 2, Glacier (2 variations), Nova (2 variations), Meteor Z, Moon Base 3 different modes of play, which includes Story Mode (8 levels long), Custom Mode, and Versus Mode Support for up to 6 different languages: English, French, German, Italian, Spanish, Japanese
Characters
Japanese/US variations
(Note: any changes to monsters are merely cosmetic and do not affect or change their abilities or battle stats)
Title: Aside from language difference, the Japanese title is "Godzilla: Great Monsters Fray Advance"
Godzilla: Instead of the bright green chosen for Godzilla in the US version, the Japanese version is a grey color to more accurately reflect his most frequent color skintone
Mechagodzilla: The sprite in the Japanese version was based off of the design of 2003's Kiryu from *Godzilla: Tokyo SOS, even having the name say "Kiryu"
Mothra: The Japanese release changed the white-coloring of Mothra's wings to a light earthy greens,while her eyes went from the deep purple to a black coloring to more accurately reflect her film appearances. In addition, her Poison Powder attack was changed from the vibrant purple in the US version to a light earthy blue as well in the Japanese version. However, the change is only cosmetic.
Player Notation: A very small change, all human-controlled characters in the Japanese version have a symbol above their heads, indentifying the individual players (like "P1" or "P2")
Story Options: Considered to be the most "exciting" change in the game, the Japanese Story Mode has three modes of play: "default", "survival", and "rage". In survival, the goal is to test one's endurance and longevity in battle (the player is stripped of continues and cannot refill their health). In rage, each monsters' rage meter refills rapidly, allowing for each monster to utilize their unique special abilities frequently and in rapid succession. This, however, gives some monsters an incredible advantage (Rodan, for example, can defeat enemy monsters with its highly-damaging Beak Charge, allowing for quick defeat in possibly a matter of seconds).
Stage Order: The Japanese version juggled the order of the battle configuration quite a bit. The second stage is a one-on-one match (instead of two-on-one); stage three is two-on-two (instead of one-on-one); stage four is a three monster free-for-all (instead of a two-on-two); stage five is a four monster free-for-all (instead of one-on-three); stage six is a one-on-three match (instead of one-on-one); and stage seven is a one-on-two match (instead of a four monster free-for-all). In addition, the bonus stages of the US release were removed, greatly reducing the time it takes to reach Mecha-King Ghidorah and enemy/ally monsters are completely chosen at random in the Japanese version.
Moves
Basic Attacks
A Button = punch/ high attack
B Button = kick/ low attack
Aerial Attacks
R+A Buttons = midair high attack
R+B Button = midair low attack
Special Moves
Hold A until flashing, release = Special Move 1
Hold B Button until flashing, release = Special Move 2
Rage Attacks
L + R Buttons = Normal Rage Attack
R then A + B Buttons = Aerial Rage Attack
A + B Buttons = Massive Rage Attack
Others
A button pick up/throw half destroyed buildings or stunned enemies.
Trivia
Originally Biollante was to be the final opponent instead of Mecha-King Ghidorah.
Rodan lets out a strange green gas, which some speculate to be a sign of a scrapped Hedorah.