Godzilla: Destroy All Monsters
Comments

4
1,120articles on
Wikizilla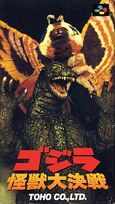 Godzilla: Destroy all Monsters
is an unreleased Super Nintendo Entertainment System game that was the North American version of
Godzilla: Monster War
. It was set to be released on April of 1995 and
was
cancelled at the last second. It would have featured Godzilla, Mothra and possibly others.
History
The game was mentioned for the first (and last) time in the May 1995 issue of Nintendo Power. However, the issue said that the release date was April 1995, but it was already May of that year. The game was not mentioned again in any magazine and no copies of it ever existed.
Nintendo Power was able to review the game although it was never released. An explanation could be that the Nintendo Power writers had gotten copies of it, but Toho or Nintendo decided to not release it.