Giant Condor
Comments

0
1,182pages on
this wiki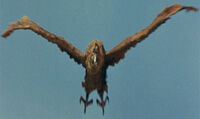 Ookondru (also known as "Gai," "The Giant Condor,""Oowashi", or Daikondru) is a monster featured very briefly in the film
Ebirah, Horror of the Deep
. It has not appeared outside the
Showa series
despite being considered for
Godzilla Final Wars
.
History
In Ebirah, Horror of the Deep, the Giant Condor briefly grapples with Godzilla, but it proves to be nothing more then a nuisance for the King of the Monsters, who roasts it with his atomic breath. Its charred corpse plummets into the ocean, the Giant Condor disappearing as suddenly as it appeared. This brawl is one of Godzilla's shortest battles.
The Giant Condor appears once more in All Monsters Attack which Godzilla destroyed with his atomic ray, it's body then proceeds to fall in the ocean.
Abilities
The Giant Condor has the abilities of what a large bird of prey would have: sharp talons, a piercing beak and the power of flight.
Trivia