Gappa is a breed of giant, beaked dinosaur which appeared in the monster film
Gappa the Triphibian Monster
(1967). The film's director, Haruyasu Noguchi, was primarily attempting a cash-in, following swiftly on the success of both
Godzilla
and
Gamera
. His masterstroke, however, was that he combined all the classic monster conventions with a breakneck speed usually not seen in the Godzilla films. The result was one of the most genuinely entertaining of all the monster films.
Plot of the movie
A strange baby monster called Gappa is found on a Polynesian island by explorers, and they capture it and take it back to Japan. The mother and father of the kidnapped creature attack Japan shortly afterwards to retrieve their missing child. That is basically all there is to the plot, but Noguchi makes the whole adventure quite entertaining so you don't care in the least about the depth of the film.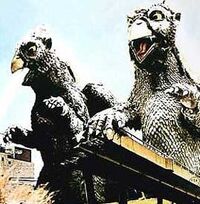 Trivia
Gappa is likely a combination of Godzilla and Rodan, since they resemble Rodan and have the exact same color of Godzilla's blue ray.
Gappa is the only monster film to be released by the Japanese studio Nikkatsu.
Gappa appears and is spoofed into an episode of the sitcom Red Dwarf.
Gappa has had over nine titles, among them: Monster from a Prehistoric Planet, Gappa - Frankensteins fliegende Monster (a title made to cash-in on the success of contemporary Frankenstein movies in Germany) and The Triphibian Monster.
In Godzilla vs King Ghidorah'(1991), when Godzilla is being stangled in the first battle, the sound he makes when he is choked is similar to the Gappa roar.