Species

Nicknames

Height

Length

Weight

Forms

Allies

Enemies

Relationships

Controlled by

Created by

Portrayed by

First Appearance

Latest Appearance

Designs

Roar
Gaira (ガイラ?, Gaira) is a Frankenstein-spawn kaiju created by Toho Studios that first appeared in the 1966 film, War of the Gargantuas.
History
Gaira, the Green Gargantua, emerged almost a year after Frankenstein's battle with Baragon, supposedly growing from pieces of the human-like monster's flesh that had washed out to sea. Unlike his "brother" Sanda, the Brown Gargantua, Gaira was a vicious kaiju that, horribly, fed upon human flesh. However, Gaira dwelled in the sea, where humans were in short supply, so Gaira soon began to attack ships and devouring the crews. He later turned to attacking cities and airports along Japan's coast, but disliking the sun, attacked only when it was cloudy, retreating to the sea whenever the sun emerged. Tired of the Green Gargantua's attacks on their country, the JSDF decided to lure Gaira into a trap, nearly killing the monster with an electrified lake and Maser Cannons. However, Sanda, the Brown Gargantua, unexpectedly arrived and saved Gaira. But when the human-liking Sanda discovered that Gaira had been eating humans as his main diet, the Brown Gargantua attacked him, forcing the Green Gargantua to retreat to Tokyo. Now in Tokyo, Gaira began to attack the city, but Sanda soon arrived and the two engaged in a fierce battle in the city streets. The battle eventually moved out to the sea, where a volcano engulfed both Gargantuas, killing them as they contined to fight.
Ike! Greenman
Gaira also made an appearance in the television series Go! Greenman. The design is more dark colored and spiky than the original. The suit also appears to be heavily rotting, with a visible ter in the legs. In the show, Gaira has a modified Godzilla roar, with some of his original vocalizations mixed in.
Go! Godman
Gaira also appeared in the series Godman, but is called a giant orge.
Other Appearances
Gaira makes brief appearances in the Millennium era films Godzilla Against MechaGodzilla and Godzilla: Final Wars. In the former film, Japan's prime minister recounts the different attacks by giant monsters on Japan, and Gaira is one of those monsters. In the latter film, Earth's anti-kaiju force narrates the emergence and defeat of several monsters throughout history, with Gaira being one of the monsters.
Abilities
Gaira has regenerative abilities.
Gaira's severed cell tissue can take on a life of its own.
Filmography
Comics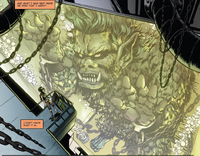 Gaira made his comic debut in Godzilla: Rulers of Earth #5. Gaira appeared for the first time and rampaged years ago, but he was captured. He later was freed by Lucy Casprell so that he could fight Varan. At first, Gaira overpowers Varan. However, when Varan retreats to the ocean, Gaira grabs his tail and does not let go until he disappears into the sea along with Varan. Before disappearing, he saw his 'brother', Sanda, reaching out to him.



Gallery
Roar
Poll