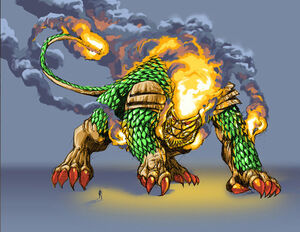 Fire Lion is the name of a kaiju created for playability in Godzilla: Unleashed. Just as the Visitor and Lightning Bug were denied from playability in said game, so was this monster.
A creature of myth and legend, Firelion is believed to have been the guardian of the lost civilization of Mu. The ruins of this once great culture were discovered sunken off the coast of Japan. Artifacts recovered from the site depict the existence of a great lion-like dragon with a fiery mane. This artist's rendering is based on the many carvings and glyphs found amongst the ruins. Recent earthquake activity has opened fissures near the site which archeologists are eager to explore. According to the ancient images, Firelion possessed the ability to appear and disappear like a flickering flame, and throw fire from his tail.
"Firelion was inspired by the stone lions seen in ancient Chinese architecture. Its gold gilded face maintains the aspect that it is a construct, whereas the flames that come off its body and form its mane indicate that the guardian spirit that animates the form. The scales on the body were added to suggest the tougher-than-stone armor aspect, as well as to also play off the idea that it was also some type of dragon/lion amalgam. This would also allude to a more mythical nature."
Fire Lion would have probably been an Earth Defender in the game, seeing as it was the supposed guardian of Mu and having a similar history to King Caesar, seeing as they are both inspired by chinese mythology and have a mammalian body type.