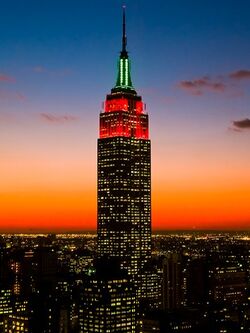 The Empire State Building is a famous skyscraper located in New York City, and the second-tallest building in the city. It is famous for its role in the iconic climax of King Kong, as well as the 2005 remake.
History
In the climatic scene of King Kong, King Kong grabs Ann Darrow and climbs the highest object he can find to escape from his captors, the Empire State Building. Four biplanes appear and begin shooting at Kong. Kong sets Ann down on top of the skyscraper and battles the planes, bringing down one of them. Unfortunately, Kong succumbs from his wounds caused by the planes and loses his grip of the building, plummeting to his death.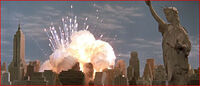 To be added

To be added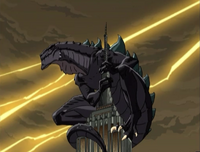 To be added.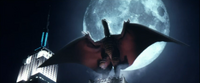 During Rodan's raid in New York City, the Empire State Building can be seen behind Rodan as he destroys the city by flying past buildings at super sonic speeds. It is unknown if the building was destroyed along with the city or not.

In the remake of the 1933 film, Kong once again grabs Ann and takes her to the top of the Empire State Building to observe the dawning day, repeating the sign for "beautiful" Ann had used in his lair, causing a shocked Ann to realize his intelligence. Before Ann is able to attempt further communication, six Curtiss Helldivers appear and attack them. Kong makes his last stand against the planes, downing three of them, only to be hit by several bursts of gunfire from the surviving planes. He gazes at a distraught Ann one last time before falling off the building to his death.
To be added
Trivia
The Empire State Building was the tallest building in New York City and the entire world from its completion in 1931 until the completion of the North Tower of the World Trade Center in 1970. For this reason, the World Trade Center was included as the stage for the climax of the 1976 remake of King Kong instead of the Empire State Building.
Following the September 11 terrorist attacks which destroyed both original towers of the World Trade Center, the Empire State Building became the tallest building in the city again until One World Trade Center surpassed it in 2012.
Ad blocker interference detected!
Wikia is a free-to-use site that makes money from advertising. We have a modified experience for viewers using ad blockers

Wikia is not accessible if you've made further modifications. Remove the custom ad blocker rule(s) and the page will load as expected.