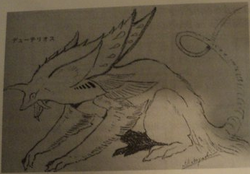 Deutalios
is a creature that was from the original draft of
Godzilla Vs. Biollante
. It was supposed to be a fish-rat hybrid.
Godzilla
was going to fight it instead of the
Super X2
and the Rose form of
Biollante
. Godzilla would have fought, killed, and consumed Duetalios, confirmation that Godzilla is carnivorous. The monster was possibly dropped due to the graphic nature of this scene and would have got an R rating or PG-13 rating by the MPAA.
Trivia
Although it was cut it made and appearance in the fan toons of Toho Kingdom. It still use's King Molerat's altered picture for the animation.
Source