DaisensoGoji
Comments

3
1,212articles on
Wikizilla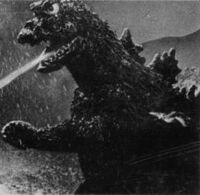 DaisensoGoji
(大戦争ゴジ
?
) is the Godzilla suit used in
Invasion of Astro-Monster
and
Godzilla vs. The Sea Monster
.
Detail
Though not as popular as its two predecessors, KingGoji and MosuGoji, the DaisensoGoji featured a head slightly larger than that of the MosuGoji suit, with a round face and jaws. The body is thin. The fingers were not held apart like the MosuGoji suit, but were grouped together, with the claws becoming less menacing; all following Godzilla suits until the 84Goji suit would have this feature. The dorsal spines and the tail of the DaisensoGoji are detailed, and the eyes were movable. This suit is also called the NankaiGoji in Godzilla vs. The Sea Monster.
Gallery
Trivia
This suit bears a strong resemblence to The Cookie Monster due to the large eyes and mouth.
This suit was also used in Ultraman for the monster Jirass. What's done is that they removed the head of this suit & placed it on the 1964 MosuGoji suit because the head of MosuGoji was already modified for another monster named Gomess & after the head was modified for Gomess, they weren't able to use it again due to the add-ons that was done to it. Then, they added a frill on the neck & added some yellow coloration on different sections on the body.