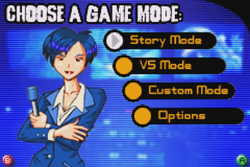 Connie Matsu
is a reporter who appears on the main menu and throughout the story mode in
Godzilla: Domination!
.
Appearance
She appears to be a slender young woman with dark blue hair and wears makeup. Connie's attire changes throughout story mode. Her most known is a blue suit she wears on the main menu and final battle.
History
Connie interviews depending on the main monster the players chooses as she follows to different locations.
Ad blocker interference detected!
Wikia is a free-to-use site that makes money from advertising. We have a modified experience for viewers using ad blockers

Wikia is not accessible if you've made further modifications. Remove the custom ad blocker rule(s) and the page will load as expected.